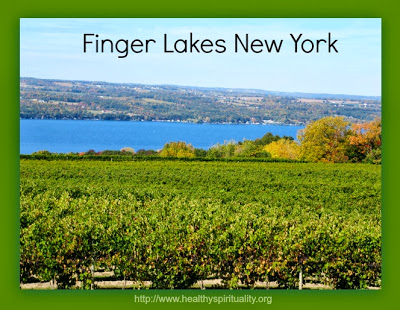 Native American folklore tells the story of the creation of the Finger Lakes region in upstate New York.
The lakes were formed when God laid his hands on the land to bless it.
 His fingers left imprints that filled with water, hence the name "Finger Lakes."
Isn't that a beautiful story?
I had to laugh, though, since there are 11 fingers in the Finger Lakes. mmm, that gives us a new image of God!
Many of us have heard stories of our beginnings. I was always told my parents – already bringing up two boys, ages 6 and 8 – decided to try one more time for a girl. Me! This story always made me feel wanted and loved.
A spiritual director once told me,
"Listen to your vocabulary. It reveals what you deeply think about yourself and others."
This reminds not just to listen, but to pay attention carefully to the language I use to describe, understand and explain things in life. Listen to the words you use. Listen to your vocabulary.
When we repeatedly tell ourselves something – does this lead to a self-fulfilling prophecy?
Is it luck or am I blessed?
I never was good at sports or is this new opportunity to get fit?
I am fat versus I can do better to eat healthy.
I am a writer. I am a writer. I am a writer….
So I am listening to both my verbal and non-verbal language.  Join me. Listen to your vocabulary. What I say to myself discloses beliefs that could also be lies. Or maybe an insightful glimpse to my subconscious. Or possibly an explanation for a long-term behavior.
Who am I? I struggled a long time with the self-image – what masks to wear each day, what the world wanted to see me as. I know the second half of life has been a revelation into who I really am.
Richard Rohr has described the first half of life as building the container. The second half of life is filling it. I like that image.
Who do I say I am now?
I am a child of God
And that is the language I use now.
Listen to your vocabulary. How do your words affect how you see yourself and others?
P.S.  I am compiling a reader's survey. It is very short and anonymous but valuable to me. If you haven't fill it out yet, I invite to add your info by Oct. 25 on this link: