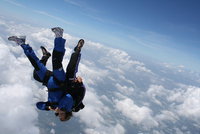 My friend, Candy, went skydiving last week. Yes that's Candy in the photo. She posted her adventure on Facebook (
http://www.youtube.com/watch?v=PXLjJSybrtQ
)
and I laughed as I watched it – she never stopped smiling.
She embraced life, took the challenge, and literally let go.
Candy lives deliberately – experiencing each day. She didn't let fear or excuses stop her from achieving a deep desire in her heart. Now I am not going skydiving and am not recommending it either, but doesn't it make you wonder what has been on your bucket list too long and needs attention?
What God given yearning is buried in your heart under the clutter of everyday chores and other people's demands?
Henry David Thoreau
lived deliberately. He rose every morning with the intention to absorb very crumb of the day.
He wrote, "
I want to live deep and suck all the marrow out of life…to know it by experience."
I think most of us walk around half asleep or even worse half dead. We get caught up with our never-ending to do lists and trapped into shallow living.
I don't think God gave us a numbing, boring life but a real, vibrant, energizing life.
I want to taste that, experience that, to be fully alive.
So now what?
I am going to pray about this observation this week – remain open to what the Lord is teaching me about living deliberately. What do I need to let go off – like Candy had to do in skydiving – in order to embrace the dreams God planted within me? 
I plan to revisit some of my deepest desires and intentionally open one of them – yet this summer.
Join me?