I live in the future.
I am a planner, organizer, to- doer of the highest regard.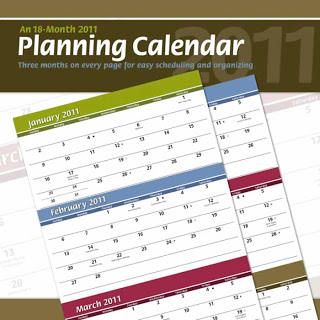 This realization hit me once again this past weekend. Walking into Barnes and Noble, just to look around, I saw them –
2011 calendars
Like an eagle diving to snatch its prey, I raced over to the display.
So many bright colors and varying formats before me. I felt like a child drooling over all the possibilities at Toys R Us or an addict finding just the right fix. I even held in my hand one calendar dated 2011 and 2012 – two year of planning. I had to buy one.
In fact, I bought two.
My husband just shook his head at me. "There is still half of 2010 left you know."
He is right.
I think I can somehow control the future when I have dates and notations for boundaries.
How sad to miss the present gifts surrounding us being too busy looking ahead.
I have been reflecting about my reaction of joy and excitement over next year's calendar.
At first I chastised myself for being so future oriented and not embracing the present moment, but now realize that hey, that is how God wired me. I accept that and to be truthful, appreciate that organization is a God-given ability.
When I live out of my strengths, I do feel energy, passion and aliveness.
But I also know I miss part of life when I don't also embrace the present moment.
Dale Carnegie said, "One of the most tragic things I know about human nature is that all of us tend to put off living.  We are all dreaming of some magical rose garden over the horizon – instead of enjoying the roses that are blooming outside our windows today."
Can't I do both?
Continue to enjoy the promises of the future while not forgetting the joy of the present?
What do you think?