Philip said, "Lord, show us the Father and that will be enough for us."
Jesus answered: "Don't you know me, Philip, even after I have been among you such a long time? Anyone who has seen me has seen the Father.
John 14: 8-9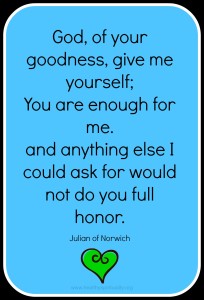 "that will be enough"
Lord you are enough for me.
Why do I continue to seek other trinkets to fill my void?
Why do I gorge with food to satisfy my emptiness?
Why do my eyes wander to the shiny objects of the world?
You and you alone are enough.
Nothing else will satisfy and fulfill.
Your banquet is plentiful and your water sufficient.
I rest in your abundant love and lavish guidance.
Thank you, Lord for providing me with what I need.
You alone are enough.
You are enough.