But this is the covenant that I will make with the house of Israel after those days, says the Lord:
I will put my law within them, and I will write it on their hearts;
and I will be their God, and they shall be my people.
No longer shall they teach one another, or say to each other, "Know the Lord," for they shall all know me,
from the least of them to the greatest, says the Lord;
for I will forgive their iniquity, and remember their sin no more.
Jeremiah 31:33-34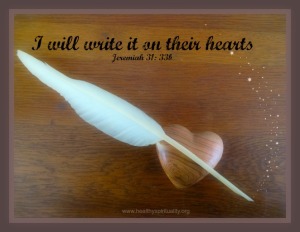 Lord, I see you – with a feather quill pen in your hand looking for my open heart.
Here I am Lord, waiting for your works to be marked with indelible ink deep within me.
I don't care if it scratches or even hurts – inscribe your essence into my being.
I want to taste you, see you, feel your presence.
I want to know you are here, know I am yours forever.
Write away, Lord.
Mark me as your own.
Tell me once again so I never forget that I am your child.
That you will never leave me.
That my surrendered heart contains your divine imprint.
Like a sheep being stamped with its Master's mark, I put my heart into your hands as yours.
Engrave me as a child of God.
As one forgiven.
As one loved.
As one for yours forever.