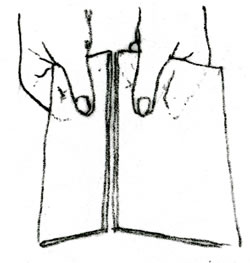 "Make a clean break with all cutting, backbiting, profane talk. Be gentle with one another, sensitive. Forgive one another as quickly and thoroughly as God in Christ forgave you." Ephesians 4:31-32 (MSG)
Make a clean break.
Lord, it is so much easier for me to be sarcastic than accepting. I am quicker to criticize than to love. I jump to conclusions, assuming fault in the other person and letting my self-protecting defenses rule my heart instead of You.
You tell me make a clean break.
Reminds me when I am in my stained glass workshop in the garage cutting glass. I score the line on the glass and with one quick jerk, SNAP, the glass breaks evenly and precisely as designed.
If I don't score completely or break quickly, the glass shatters with jagged edges that cut my fingers.
Lord, Your death and resurrection forever settled the score, so we could make a clean break with the world and its sin.
Make a clean break.
I will keep this as my prayer this week that with Your strength, I can break from the sarcasm, criticism, and assumptions and live as You designed – in love.