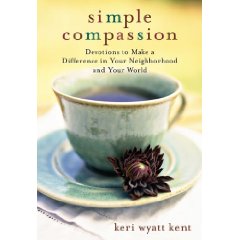 What difference can I make? How can I show compassion? What is my role in fighting injustice in the world?

I just read a new book by Keri Wyatt Kent, titled Simple Compassion- Devotions to Make a Difference in your Neighborhood and your World. This book contains 52 devotional readings about compassion that could use individually or by a small group. Each chapter contains Biblical references and ends with action steps. A leader's guide is also printed for small group reference.
The book offers inspiration and motivation to explore how God is calling each of us to grow hearts full of compassion. What a refreshing way to approach a topic like this that should be rooted in prayer and meditation by having an only a once a week reading. This creates space to open our hearts to how God is calling us and our eyes to fully see injustice surrounding us.
Two quotes I especially liked are: "If the goal of Christian spiritual formation is to become more Christ-like, then I should be more compassionate, more concerned for fighting against injustice." And "I want to take smalls steps of compassion. To dance upon injustice and invite others to dance with me, not just to shine my own little light but also to join with others so that our light will break forth like the dawn."

This book overflows with simple steps to become more aware of your community and the world, both full of injustices. I noticed many of her suggestions also simplify our lives, a deep yearning in many of us.
Keri's warm and welcoming approach in her writing pulls in the reader as if she is talking with us in our kitchens over a cup of tea.
We are called to be difference makers in this world. This book provides insight and guidance to help you develop compassion in your life.
Disclaimer: Zondervan Publishers sent me this book at no cost to review and post on my blog. But I asked to do this since I have been a fan of Keri's other books and personally have been feeling a call to grow more in the area of justice. Check out Keri's web site at http://www.keriwyattkent.com/ for more information.