What are Monthly Musings?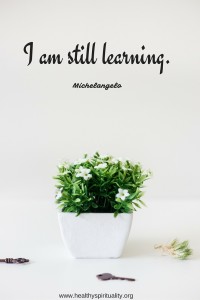 At the beginning of each month, I share lessons I learned from the previous month. I call these my Monthly Musings (I have a free cheat sheet if you want to help with this practice you (see end of this post) and/or a printed book, Monthly Musings Journal, available on Amazon if you are interested). These are ways to incorporate the spiritual practice of reflection into your life and often I see God's touch and presence more in this rearview mirror look-back on life.
I have been working on a book proposal about the value of the spiritual practice of remembering and living a reflective life. Doing this column each month has grounded me in this practice and helped me capture those fleeting moments of joy, learning, and life.
March Madness or My Monthly Musings
What did I learn/observe in March?
Lessons Learned:
I have been pondering Jesus as a carpenter. I wonder what he made. How the sawdust felt to him? Did he ever miss his mark and hit his finger instead?  I like to imagine him puttering around his workshop, being creative, making something for his mother or a friend. The scene is relaxing to me. Like I am observing a master workman at his best. I learned on our trip to the Holy Lands that perhaps Jesus was more of a stone mason than a carpenter. Either way – he created and continues to create today. And is fun to watch him work.
Good Reads:

I am thoroughly enjoying and devouring David R. Keller's book Desert Banquet.  It takes a quote from the Desert Mothers and Fathers as a daily meditation and in one paragraph adds depth and meaning to the words. Some of the sayings of these wise Abbas and Ammas are difficult to understand and apply to our world, but Keller is digging deep into their wisdom and making it practical for me.
I am not a fiction reader but loved the newest book by Johnnie Alexander, Where She Belongs – a great story to enjoy.  


Wise Words to Remember:
Needed this reminder in March: 
If you chase two rabbits, you will not catch either one. (Russian Proverb)
A good focusing question:  What is the ONE THING I can do, such that by doing it, everything else will be easier or unnecessary?
And a poem full of wisdom:
How to Be a Poet
Make a place to sit down.
Sit down. Be quiet.
You must depend upon
affection, reading, knowledge,
skill—more of each
than you have—inspiration, work, growing older, patience,
for patience joins time
to eternity. Any readers
who like your work,
doubt their judgment.
Breathe with unconditional breath
The unconditioned air.
Shun electric wire.
Communicate slowly. Live
a three-dimensioned life;
stay away from screens.
Stay away from anything
that obscures the place it is in.
There are no unsacred places;
there are only sacred places
and desecrated places.
Accept what comes from silence.
Make the best you can of it.
Of the little words that come
Out of the silence, like prayers
prayed back to the one who prays,
make a poem that does not disturb
the silence from which it came.
Wendell Berry
Terrific Tools and Tips or Innovative Ideas I discovered:
Have you heard about the edible spoon?  What a gizmo! Someone has invented an Edible Spoon Maker – you put biscuit batter into the mold, bake it and bingo – have a spoon to use, the consume. Essentially it is like a miniature bread bowl. Amazing the creativity of people's minds. You can read more about it here:  
Here are cookie cutter shaped-like spoons:




Joys and Delights and Special Memories:
I am reminded over and over again the power of prayer.  Many people do pray and are willing to lift up one another's concerns – such an untapped resource we have and often – out of fear or embarrassment – don't ask for when we desperately need to.
It sure was fun giving my newest e-book away for free to so many of you on my birthday. For those of you who downloaded it, I hope it blesses you and if you find the time to write a review on Amazon and spread the word about the book – I certainly would appreciate it.  Thanks!!


In March I attended the Florida Christian Writers Conference and for the first time in 5+ years my entire online friend/writer/sisters-in-Christ group – The Kindred Hearts were together. Words can't express how precious that time was to my soul.

And I have so enjoyed my new friend, Mr. Woodpecker – He visits me daily outside my office window and makes me smile. 

Interesting Blog Posts:
This month I found a book review site which seems to feature some unique thought provoking books: The Englewood Review.   
One post listed their 10 Essential Women Writers for the Christian Reader.  Their list included Flannery O' Connor, Madeleine L'Engle, Jane Jacobs, Marilynne Robinson, Maya Angelou, Kathleen Norris, Dorothy Day, Bell Hooks, and Mari Evans.
I have read some of these women, but some were new to me. Who would you add to this list?
Best story of the Month:
Keep Digging:
A man wanted to dig a well to water his farm. After digging for some time in a place recommended by water-diviners, he found no water and got disgusted. He had dug only about fifteen feet.
Along came another man who laughed at him for digging there, and pointed to another place. The farmer went over to that spot and dug and dug, for about twenty feet. Still no water, and very tired, he finally took the advice of an old neighbor who assured him there was water at yet another place.
After he had given up that one too, his wife came out and said, "Where are your brains? Does anyone sink a well that way? Stay in one place and go deeper and deeper there!" Next day, rested, the farmer spent all day on one hole and found abundant water.
**********
A few affiliate links are used here, which means at no extra cost to you, making a purchase by clicking these links helps support this site. Thanks!
If you want a copy of my cheat sheet I have made it into a free downloadable printable and you can just the button to get the free printable. It's free!
Click here to request your Monthly Musings Printable
I compiled these sheets plus additional information in a book, a two-year journal that is available on Amazon. I don't want to lose the loose sheets of paper and think having it in a book form will make it more of a keepsake. Keep all of YOUR musings in one place.



 What did you learn in March? Please share – I really do want to hear about your journey and all your life lessons.