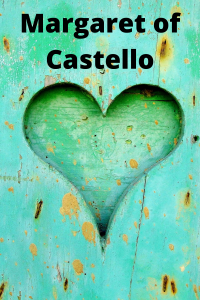 Have you ever heard of Margaret of Castello?  I had not until she was mentioned during the annual Lent Madness event.
I don't know about you, but I am tired of everything I write, read, and hear is focused on the Covid 19 pandemic. I know we need to stay updated, BUT I need some inspiration, hope, and encouragement. Margaret's life and how she met with challenges refreshed and strengthened my resolve as we too face some difficult times.
Who was Margaret of Castello?
Margaret was born in 1287 in Italy. Her parents immediately told others she had died and hid her away. Her parents wanted a son and were disappointed she was a girl. Then matters got worse.
You see Margaret arrived in the world with birth defects. She was born blind and with very serious spine and leg problems. Some accounts describe her as a hunchbacked dwarf.
Her parents were horrified and ashamed. They kept her in a secluded section of the castle where they lived. Later her father had a room built without a door onto the side of the parish church and walled Margaret inside this room where she lived until she was 16 years old. Food and other necessities were passed to her through a window and she heard mass and took communion through another opening. The priest befriended her and did his best to educate Margaret.
When she was a teenager, her parents took her to a Franciscan shrine in Castello. They prayed that Margaret would be healed during their pilgrimage. When she was not, they abandoned her, leaving her alone in this strange city.  How sad and cruel!
The people of Castello adopted Margaret. It is said that the homeless folk there taught her how to beg. She slept in doorways and empty buildings, but she never complained.
She made a living by teaching the street children how to read and pray. She also babysat children while their parents work, basically starting her own daycare. Later in spite of her physical challenges, she ministered in prisons, helped the sick and comforted those in suffering.
In 1303 she met with Dominican friars and asked to join their order as a laywoman in the third order of the Dominicans. She wore a habit the rest of her life until she died at age 33. People from all around came to her funeral because of her love and compassion for others.

What a courageous and loving spirit she exhibited. Life could have soured her attitude, but she chose the better way, God's way of living. She focused on what she could do, not what she couldn't. She persevered through many challenges with the strength and wisdom of God.
We can too. Let's press on through this and future difficulties with our eyes on God and a heart full of compassion for others. May the life of Margaret lift all of our spirits up with courage and love.
What did you learn from Margaret's story?