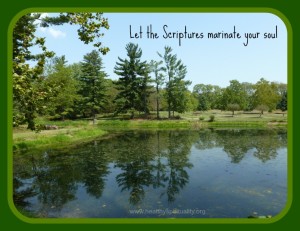 Marinate.
Marinate means to seep, rest in, soak in the elements, to leave time to reflect.
This word reentered my heart when I attended the Network of Bible StoryTellers Festival Gathering a few weeks ago. In order to learn the bible story they are sharing, the teller gives time for the story to marinate within them.
Most tellers commented that learning the story wasn't a process of memorization, but the story became a part of them, transforming them forever. They marinated in the story.
How powerful is that? God's living Word taking root deep within us, soaking every cell and element of this human body and spirit, then blossoming outward for others to see and hear.
And when you marinate, you absorb the taste, the spices and all the wonderfulness of what infuses your soul. God's characteristics enveloping us. We become the story.
Dr. Leonard Sweet wrote:          
"The more you marinate your mind and soak your soul in the Scriptures, the more the Word becomes your words – the more its words become part of the warp and woof of your life,, including your unique phrasings and idioms."
Marinades in cooking tenderize the meat and enriches it flavor. The fibers become softer and leave a wonderful long-lasting taste. Have you ever considered how marinating, reflecting, meditating on God's word creates a more tender, gentler, loving soul?
Marinating can't be rushed. It takes time for the meat, which is passive in the process, to soak in the goodness of seasoning. Once rested and tender our souls are transformed by this process and never the same again.
I have heard that you become what you focus on so what better object to consider, to contemplate, to immerse ourselves in but God and his living word, the Bible.
Marinade – what a powerful image to bring to our time with God and his Word.
Time to quit microwaving my way through the scripture and spend time with slow cooking with God's marinade.
What do you think of the process of marinating in God's word?