Amelia Bloomer.  Ever hear of her before?
I didn't until recently when I read her fascinating story. She was featured on Lent Madness as one of the 32 Christians placed into a tournament-like single elimination bracket for 2017.  She made it to the Final Four of this fun and educational match up of the faithful.  I knew once I heard her story, she would be a great one to share here on this blog.
Healthy Spirituality Friends, meet Amelia Bloomer.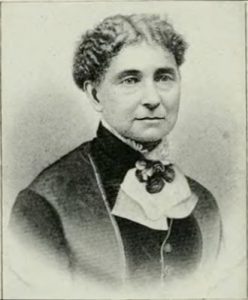 Amelia Bloomer's Story
Amelia was born in 1818 in Homer, New York and is known as publisher, social reformer, fashion designer, women's rights advocate, and a journalist. A member of the Episcopal Church, she fought not only for the rights of women, but also assisted poverty-stricken people through various charitable causes. She died in December 1894.
Hard for us in the 21st century to imagine what it was like for women in the United States in the mid 19th century. Women were expected to keep silent – hushed by the culture, laws, their families and even the church. Amelia was not willing to stay quiet and used the voice God gave her.
While working as a governess, she met Dexter Bloomer who was an attorney and co-owner of a local newspaper. They were married in 1840 and moved to Seneca Falls, New York – the soon to be famous site for the women's suffrage movement.
Amelia became active in her local church and more involved in the temperance movement. Her husband encouraged her to write about these social issues for his newspaper.
As an observer and journalist in 1848 Amelia attended the first Women's Right Convention held in Seneca Falls. The following year she created her own newspaper, called The Lily. Though she become a public speaker, often giving presentations to large crowds later in life, at this point she thought writing was the best way to work on reform.
Many legislators at that time, all male of course, voiced their opinions that women were to submit to the law, not make them.  Amelia wrote, "It will not do to say that it is out of woman's sphere to assist in making laws, for if that were so, then it should be also out of her sphere to submit to them."
Amelia was a devout member of her Episcopal Church trying to work within the church for reform. Her and her husband worked together in church ministries, opened their homes to orphans and lectured about the dangers of alcoholism.
The same Power that brought the slave out of bondage will, in His own good time and way, bring about the emancipation of women, and make her the equal in power and dominion that she was in the beginning.
Amelia Bloomer
With her husband, Amelia Bloomer moved to Ohio in 1853 and she continued editing the Lily. She is one of the women credited with getting women the right to vote in Ohio in 1873. Later they moved to Council Bluffs, Iowa, two years later where she stopped publishing because that area didn't have any publishing facilities.
I Know You're All Wondering:  Yes,"Bloomers" are Named for Amelia Bloomer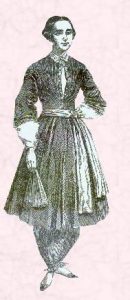 Yes it is true. The style of fashion called the bloomer was named after Amelia Bloomer.
Remember the fashion styles of the mid 1800s were the unhealthy tight corset and layers and layers of petticoats sometimes weighing more than 10 pounds over floor length dresses. The expectation of that time was for women to have a figure like the number eight. Corsets led to health problems and physical deformation. Petticoats and long dresses often caught on fire near fireplaces.
Bloomers were loose fitting bodice and knee length dresses over full pantaloons. Amelia didn't invent this style, but her name become associated with the outfit because she wrote about it and printed illustrations of herself in the Lily wearing the style.
The outfit caused quite a scandal and was ridiculed.  The circulation of The Lily rose from 500 per month to 4000 per month because of the dress reform controversy.
Let men be compelled to wear our dress for awhile and we should soon hear them advocating a change.
Amelia Bloomer
Bloomer later stated, "As soon as it became known that I was wearing the new dress, letters came pouring in upon me by the hundreds from women all over the country making inquiries about the dress and asking for patterns—showing how ready and anxious women were to throw off the burden of long, heavy skirts."
Lessons from Amelia Bloomer
Social activism is an expression of our spirituality. Her story reminds me to pay attention to the wrongs, even though they are cultural accepted and common and to speak up to make a difference. We can make a difference in social injustices.
Going against the norms of the day is not always popular, but may be necessary.
Being open to learning new ways and developing new perspectives is part of the human journey.
When you find a burden in belief or apparel, cast it off.
Amelia Bloomer
What do you think of Amelia's story?  What social injustice are you speaking up about?