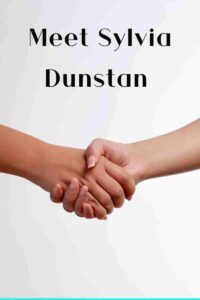 Ever hear of Sylvia Dunstan?  I hadn't until I noticed her name at the bottom of a Lenten hymn, we sang at church a few weeks ago. The words from Bless now, O God, the Journey were meaningful, especially the last line. Here is one verse:
Bless now, O God, the journey
That all your people make
The path through noise and silence
The way of give and take
The trail is found in desert
And winds the mountain round
Then leads beside still waters
The road where faith is found.
We find faith while we journey, not only when we finally make it to our destination. Our path winds through noise, silence, give, take, deserts and mountains. It's all part of life, ever shaping us.
As the hymn concluded, I wondered who wrote these powerful words – Sylvia Dunstan. Then I noticed it: (1955-1993) She was younger than me and what? She died so young? I knew I wanted to learn more about this writer of words that won my soul.
Canadian Sylvia Dunstan told others her love of music came from her grandparents who were Methodist but she took music lessons from Catholic nuns. I could identify with her as her early songs used a folk guitar, something I played in high school too. She began writing songs and was encouraged to write music based on scripture. She said later, "I came to believe that 'meaningful thoughts' in sloppy form are an impediment to the people's prayer, causing an undue focus on the work itself, rather than pointing to the worship of God."
She earned graduate degrees in theology and divinity and was ordained in the United Church of Canada. She served as a minister, a prison chaplain and even an editor of a worship journal in her short life. She died on July 25, 1993, four months after being diagnosed with liver cancer.
She published almost 40 hymns. She would write the words to familiar music such as "You, Lord, are both Lamb and Shepherd." One writer shared this note about this song. "She wrote this on a commuter bus, reflecting on the work of Søren Kierkegaard, after a 'particularly bad day' of prison ministry. Let's turn that into a math equation: a 17th century French melody + a challenging day of prison ministry + Kierkegaard + a gifted hymn writer in 1984 = a beautiful new hymn to sing in the discipleship challenges of the 21st century."
Hello Sylvia Dunstan. So glad to meet you. I am grateful I noticed your name at the bottom of the hymnal and learned your story. Your words live on in my heart. Thank you for following God's call and cultivating the gifts God gave you. May we all do so too.