Monthly Musings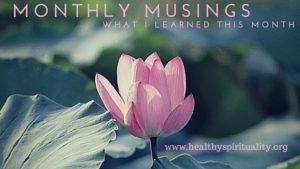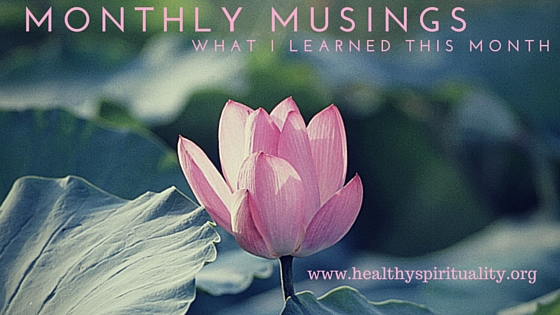 Each month I pause and take a look back at what I am discovering, learning, and exploring in life – I call these my monthly musings.
I believe strongly in living a reflective life as a spiritual practice. We rush through life, often missing the lessons, enjoying the highlights and sleeping through what we should be paying attention to. Capturing these special moments gives meaning, depth, and delight to life.  Let's wake up to the wonders in the ordinary all around us.
I record what I notice on the pages of my Monthly Musing Journal. You can use anything, scrapes of papers, a journal or a calendar.  Copies of my Monthly Musing Journal are available on Amazon and are a convenient way to keep track of the little things in life we often miss. Or if you want to click the button at the end of this post to get a free copy of my one sheet Monthly Musing handout.
 October Monthly Musings
Lessons Learned
The trees light up with fire here in northwest Ohio in October. Trees have always called to me as a spiritual image too.  I love the idea of being rooted deeply in God – his love, his word, his ways, and how the branches reach upward and outward to others, in praise to God and bearing fruit. The leaves falling each fall remind me on the importance of letting go.  The seasons inform me to be mindful of what time in life I am presently in and its message. Even the tree rings in a dead tree leave a story.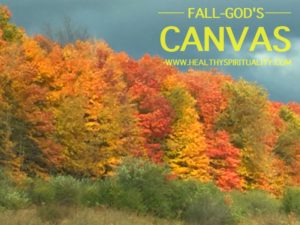 Did you know trees have a language?  I didn't and learned that this month in this fascinating article you may enjoy called "The Secret Life of Tree."
I love reading and experimenting with productivity tips, so this short video caught my eye this month.
Wise Words to Remember:
Here are a few of the quotes that stuck in my heart and mind this month:
I think people often come to the synagogue, mosque, the church looking for God,
and what we give them is religion.
– Bishop Gene Robinson
 ******
The universe is full of magical things patiently waiting for our wits to grow sharper.
Eden Phillpotts
******
Prayer enlarges the heart until it is capable of containing God's gift of Himself.
–Mother Teresa
******
Good Reads:
On my nightstand at the moment:
Two oldies but goodies:
The pastor mentioned in his sermon a few weeks ago, the classic, Your God is Too Small by J. B. Phillips, so I ordered it from the library to reread. Haven't started it yet, but just the title itself is a key lesson to remember.
My small group is reading together and discussing An Altar in the World by Barbara Brown Taylor – reminds us we can experience God all the time, anywhere we are. She writes, "Earth is so thick with divine possibility that it is a wonder we can walk anywhere without cracking our shins on altars."



Linda Evans Shepherd's newest book is "Winning Your Daily Spiritual Battles, Living Empowered by the Armor of God."  Based on Ephesians 6 references to the armor of God, Linda shares stories and Biblical inspiration diving deeper into what we are wearing on this journey on earth.  I am enjoying this book.
And I can't wait to get into Rhythms of Rest, Finding the Spirit of Sabbath in a Busy World, by Shelly Miller.  I have been following Shelly's blog for the past several years as she explored keeping the Sabbath and longed to have her write this book and it is now available.  I am so inspired by this topic – even though it is NOT a strength of mine (I fail miserably with Sabbath keeping) I am going to write more about her book and this topic on my Thursdays' posts in November.
Terrific Tools and Tips
Found some fun items this month to share with you:
Supoon – This shows you that a common object can always  be recreated and improved. This kitchen tool is a measuring spoon a  flat squeegee and designed so the head won't sit flat on your surface. Amazing.
Whisk and Spatula Combined! – Cute and colorful kitchen tool for whisking and then getting every last drop from the bowl with the spatula already in your hand.
Spencerian System of Handwriting – My handwriting isn't the best I would love to have a more  beautiful penmanship.  I think this may help and plan to put it on my Christmas list.

Website/Article (s) of the Month:
Four Ways to Find Meaning in Your Life are explored in this article from Time Magazine.
How was YOUR October?
I compiled my Monthly Musings outline plus additional information in a book, a two-year journal that is available on Amazon. I don't want to lose the loose sheets of paper and think having it in a book form will make it more of a keepsake. Would love to have you order one and leave a review!
If you want the free Monthly Musing download sheet, just click this button.
Click here to request your Monthly Musings Printable
October is some people's favorite month.  What is your favorite month and what did you learn in October? 
Please share – I would love to hear how you are growing and thriving.  I sure appreciate all your comments and would love to have more of you join the conversation.  What are you noticing/learning this past month?