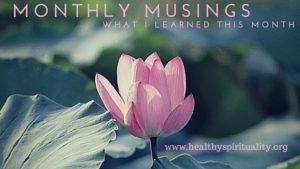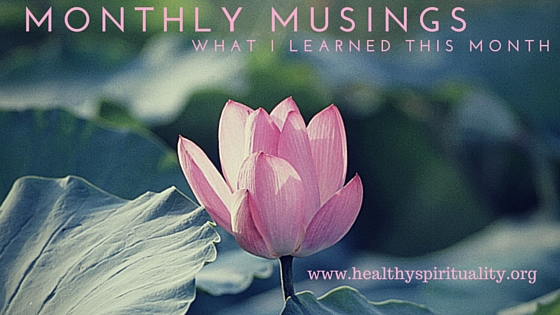 June busted out all over – remember that song? – in my case, plans, good intentions, and goals all spattered on the cement and melted in the August type humidity we've had in NW Ohio.  I did NOT get done all I wanted to this month. Seems to me though every summer gets this way and another great reason to pause and review the past month to capture its lessons.
How are you living a reflective life? Each month I look back at what I am discovering, learning, and exploring in life – I call these my monthly musings. Capturing these special moments gives meaning, depth, and delight to life. Let's wake up to the wonders in the ordinary all around us.
I record what I notice on the pages of my Monthly Musing Journal. You can use anything, scrapes of papers, a journal, or a calendar.  Copies of my Monthly Musing Journal are available on Amazon and are a convenient way to keep track of the little things in life we often miss. Or if you want to click the button at the end of this post to get a FREE copy of my one sheet Monthly Musing handout.
June Monthly Musings
Monthly Musings Lesson Learned:
Beside crazy schedules, one thing I learned this month was the reminder to be careful for what you pray for.  I know we have all said that before, but I asked the Lord boldly for a new type of experience and wow – he is answering it already.
As I write this I sense the Lord leading me into not one, but two new possibilities. Will tell you more about this new adventures later after the dust settles, but I learned once again how gracious God is and always listening. If we seek him, ask him to stretch us and help us grow, he is more than willing to send opportunities our way.
Remember: Be careful what you pray for, you might just get it.
On that note this experience brought to mind this poem:
I asked for strength and God gave me difficulties to make me strong
I asked for wisdom and God gave me problems to solve
I asked for prosperity and God gave me brawn and brain to work
I asked for courage and God gave me dangers to overcome
I asked for patience God placed me in situations where I was forced to wait
I asked for love and God gave me troubled people to help
I asked for favors and God gave me opportunities
I received nothing I wanted I received everything I needed
Unknown.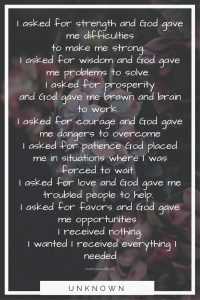 Monthly Musings Good Reads and Book Finds:
A book I have been reading this past month is called Brand Luther by Andrew Pettegree. Very appropriate for the observing the 500th year since Reformation. I am learning a ton of details about Luther, the politics of the day and the close connection, the complex partnership, and the amazing influence the local printers contributed to the movement. The book is a bit academic and repeats itself at times, but I read two chapters at a time and discuss the content with a local pastors group, so the experience has been social as well as educational.
I discovered this fascinating infographic depicting all the worlds language. Chinese is the most widely used language, but English remains the number of language currently being learned with 1,500 million English learners. French is the second most widely learned language with 82 million learners. Chinese is the third most popularly learned language with 30 million learners.

Monthly Musings Word of the Month:
Humblebrag is the word of the month.
Humblebrag means to brag or boast but disguised by a humble apology, complaint, etc. You subtly let another know something wonderful while in the guise of "poor me.".
"I am so tired from all my world travels."
"These $500 shoes are killing my feet."
Here is an interesting article about humblebragging.
Watch yourself – now that you know what this act of boasting is called – you may hear yourself humblebrag more than you realized before.
Monthly Musings Wise Words to Remember:
I love ordinary days so this quote jumped into my heart:
Normal day, let me be aware of the treasure you are.
 Let me learn from you, love you, bless you before you depart.
Let me no pass you by in the quest for some rare and perfect tomorrow.
Mary Jean Irion
More food for thought:
You need to learn how to select your thoughts just the same way you select your clothes every day. This is a power you can cultivate. If you want to control things in your life so bad, work on the mind. That's the only thing you should be trying to control.
– Elizabeth Gilbert

Terrific Tools and Tips or Innovative Ideas I Discovered:
Ready for some July 4th celebrations? I got this party pack for our fun:
And from the "What will they think of next department?"  Tytan Magnetic Space Putty Slime Stress Reliever Infused with Iron Fun Toy, Black
And I have heard the controversy about the spinning widgets all the kids are playing with. I used one like this though, during the children sermon about the Trinity. Trinity is hard to understand even for adults.
We looked at the three different colors that all blended into one when I twirled it.
A few affiliate links are used here, which means at no extra cost to you, making a purchase by clicking these links helps support this site. Thanks!
One more neat announcement:  It's out! My latest book, Fuel your Faith: A Practical Guide to Igniting a Healthy Spirituality, is on Amazon and I will be doing the official launch in July. Happy Dance!
If you want a copy of my cheat sheet I have made it into a free downloadable printable and you can just the button to get the free printable. I compiled these sheets plus additional information in a book, a two-year journal that is available on Amazon. I don't want to lose the loose sheets of paper and think having it in a book form will make it more of a keepsake. Keep all YOUR musings in one place.
Click here to request your Monthly Musings Printable
What did you learn in June?
Please share – I would love to hear about your journey and all your life lessons.