Monthly Musings – What I Learned in August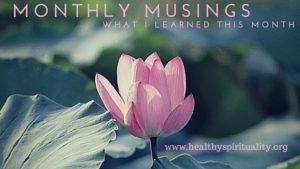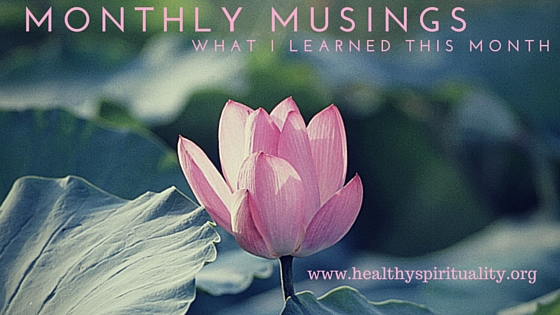 Monthly Musings
Each month I pause and take a look back at what I am discovering, learning, and exploring in life – I call these my monthly musings.
Living a reflective life is a spiritual practice that adds depth and gratitude to our lives. Often our busy schedules make it difficult to keep a daily journal, but we can find the time to take notes of the some of the highlights, lessons, and joys by waking up and paying attention. Capturing these special moments gives meaning and delight to life.
I record these on the pages of my Monthly Musing Journal.  You can use anything, scrapes of papers, a journal or a calendar.  Copies of my Monthly Musing Journal are available on Amazon and are a convenient way to keep track of the little things in life we often miss.
Lessons Learned
August was a tough month for my family and so I appreciated your kind words and prayers. God is good!  And why does it always surprised me how powerful the prayers of others are in encouraging and lifting us up. 
Prayers and of course God's word gives us the needed strength.  I read just last week Matthew 23: 37: "How often I longed to gather you children together as a hen gathers her chicks under wing, but you were not willing."
I thought my lessons was the word gather, but God woke me up to the last word in that verse – willing.  I realized my spirit was not open and obedient, but dragging its feet in self-pity and gloom.
"Lord give me a willing spirit. Willing Spirit in, my stubborn will out.  Willing to rest under your wings. Willing to serve. Willing to be.  Willing Spirit, teach me, mold me, lead me."
I later read this on Facebook:  "On particular rough days, when I can't possibly endure I like to remind myself that my track record for getting through rough days so far is 100%."
[Tweet ""On particular rough days, when I can't possibly endure I like to remind myself that my track record for getting through rough days so far is 100%.""]
Good reminder for those difficult times.  God hasn't abandoned me yet and never will.
Wise Words to Remember:
God rarely enters our hearts through doors we have left open invitingly
but through the cracks rendered to hearts
through some hardship, or difficult relationship, or a traumatic experience.
-Br. Jim Woodrum
******
Hope is being able to see that there is light despite all of the darkness.
– Desmond Tutu
******
That the birds of worry and care fly over your head, this you cannot change,
but that they build nests in your hair, this you can prevent.
– Chinese Proverb

*******
Good Reads:
Words to Live By – Linda Gilden and Dalene Parker.  I am really enjoying having a devotion based on one word a week.  Great way to start my day.
Just Around the Corner – by Clella Camp.  Clella writes beautiful words that helps us discover God in ordinary places. Her daily reflections, prayers and "extra" steps have deepened my walk with God.  A great book to have on hand when you have to give a devotion for a group. 
The Magician's Nephew – CS Lewis.  I just purchased this book.  I knew the story of the Lion, Witch and the Wardrobe and saw the play this month up in Stratford Canada but always thought it was the first book in his series about Narnia.  I learned this month I was wrong and the Magician's Nephew is number one.  Looking forward to reading the story of the beginning of the wardrobe adventures.
I am also rereading An Altar in the World by Barbara Brown Taylor. My small group is discussing this fascinating and inspiring book about seeing God all throughout the world. Fun to share her words with others as we read and talk and grow deeper.
Terrific Tools and Tips
 Dear Santa,
All I want for Christmas is a Ipad Pro with an Apple pencil. My friend Shelley Hitz has one and been using it in such creative ways.  I wanna play too…please…..( gotta have dreams, right?)  


  I also would use these.  I am always losing things between the seats and the center console. If you've ever dropped your phone between the seats while driving, you know it can be both annoying and dangerous. Stick these pockets between the car seats and the center console to catch any stray items. Or, use them to keep kids' activity books, important papers, and other items organized and within reach.
Website of the Month:
Drizzlemeskinny.com – heard about this fun recipe site at my Weight Watchers meeting. She really likes her sweets,  but has revamped some great recipes there.  Check it out.  

Word of the Month:
Whigmaleerie is a noun meaning whim or notion or a whimsical or fanciful ornament or contrivance; gimmick.  Sounds like a fun word to me!
I compiled my Monthly Musings outline plus additional information in a book, a two-year journal that is available on Amazon. I don't want to lose the loose sheets of paper and think having it in a book form will make it more of a keepsake. Would love to have you order one and leave a review!
If you want the free Monthly Musing download sheet, just click this button.
 Click here to request your Monthly Musings Printable
What did you learn in August? Please share – I would love to hear how you are growing and thriving this summer.