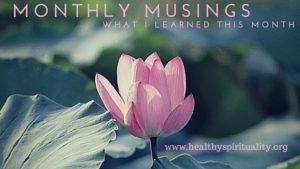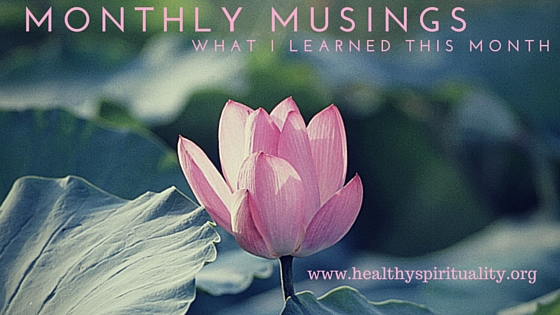 January Monthly Musings
I am not a winter person (it's cold and snowy in northwest Ohio where it tends to have endless dreary cloudy days too).  BUT I do love the fresh start of a new year. I am grateful for January – new beginnings, looking forward to a full year of surprises and life and my obsession with organizing that hits a frenzy this time of year.
How has January greeted your spirit?  Each month I look back at what I am discovering, learning, and exploring in life – I call these my monthly musings. Capturing these special moments gives meaning, depth, and delight to life. Let's wake up to the wonders in the ordinary all around us.
I record what I notice on the pages of my Monthly Musing Journal. You can use anything, scraps of papers, a journal, or a calendar. Copies of my Monthly Musing Journal are available on Amazon and are a convenient way to keep track of the little things in life we often miss. Or if you want to click the button at the end of this post to get a FREE copy of my one-sheet Monthly Musing handout.
What I Learned in January
Monthly Musing Lesson Learned:
I am slowly learning that I am the accumulation of all my choices.  Even the little more insignificant decisions leave an impact.
This is especially true in my battle to lose weight.
One extra bite here. Licking the spoon here. An extra serving here and there – slows and even stops my weight loss. My weight loss goal is in sight now – I have less than 15 more pounds to lose for an end total of 105 pounds.  Yes, I was that heavy a while back.
My food and exercise choices every moment add up and I am determined to make it to this healthier weight.
I am finally realizing that food doesn't control me. Food holds no magical powers. There is a toddler inside me that demands that cookie or more chips, but I am also an adult who knows to wait with the discomfort of anxiety, restlessness, boredom, avoidance, and vulnerability in order to reach this goal. Temporary discomforts won't kill me – the higher weight will. The decision to make the better and best choices is non-negotiable.
As I reread this I chuckle – sounds like I am still convincing myself, doesn't it?  Quite an ongoing learning process for me but I am going to do this!
Monthly Musing Good Reads:
This is the year of scripture in our church, parish, and synod.  One goal I have in 2019 is to study the book of Hebrews. I purchased two books to lead me in this study.
Life Lessons from Hebrews by Max Lucado
Hebrews – A life-changing encounter with God's Word by NavPress.
Any other suggestions?
Monthly Musing Words of the Month:
One of my favorite words was the word of the day this month: murmuration – this is the dancing of a flock of starlings like in this photo and in this post: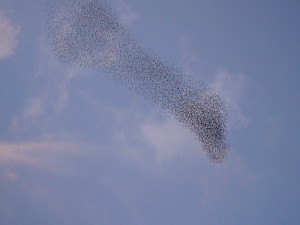 Monthly Musing Wise Words to Remember:
We lost the poet Mary Oliver this month.  Her wise words linger in my heart and soul. Here are a few of my favorites:
"Tell me, what is it you plan to do with your one wild and precious life?"
"Said the river: imagine everything you can imagine, then keep on going."
"The most regretful people on earth are those who felt the call to creative work, who felt their own creative power restive and uprising, and gave to it neither power nor time."
"Ten times a day something happens to me like this – some strengthening throb of amazement – some good sweet empathic ping and swell. This is the first, the wildest and the wisest thing I know: that the soul exists and is built entirely out of attentiveness."
"You must not ever stop being whimsical. And you must not, ever, give anyone else the responsibility for your life."
"Keep some room in your heart for the unimaginable."
"To pay attention, this is our endless and proper work."
"When it's over, I want to say: all my life
I was a bride married to amazement.
I was the bridegroom, taking the world into my arms.
When it is over, I don't want to wonder
if I have made of my life something particular, and real.
I don't want to find myself sighing and frightened, or full of argument.
I don't want to end up simply having visited this world."
Fun and Innovative Ideas I Discovered:
I must be the last person on earth to get an instant pot but did get one for Christmas and am loving it so far.
If you want a copy of my cheat sheet, I have made it into a free downloadable printable and you can just the button to get the free printable. I compiled these sheets plus additional information in a book, a two-year journal that is available on Amazon. I don't want to lose the loose sheets of paper and think having it in a book form will make it more of a keepsake. Keep all YOUR musings in one place.
Click here to request your Monthly Musings Printable
What did you learn in January? Once again to honor Mary Oliver, this month reminded me to pay attention and to live in amazement of God.  Please share – I would love to hear about your journey and all your life lessons.
PS: The behind the scene update of this blog continues and so far, thankfully, been unseen by you all. This week more work will be done so please bear with me and forgive me if things look weird or are available during the transition.
And don't forget the week (Monday through Friday) of January 28, 20,19 I will be doing a Facebook live on my Facebook author page: jeanwiseauthor at 1:00 pm eastern about 5 Ways to Find Time to be with God. Join me or watch the replays!