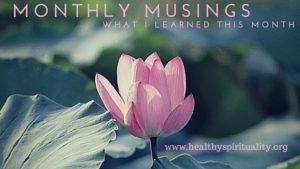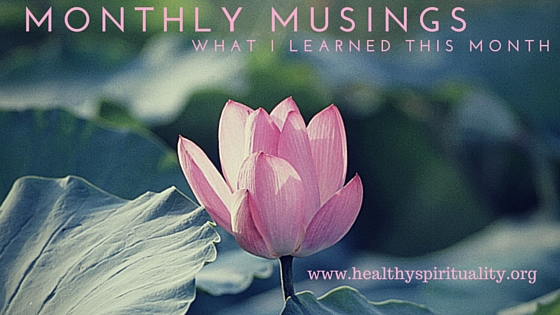 June Monthly Musings
What did you learn more about, observed, pondered and stretched your soul and heart with in June?  When I announced last month I was only going to post here once a week several readers supported and understood but ask hopefully that I would continue these monthly musing posts. The answer obviously is YES!  These are fun and in reality helpful for me to pause, take a deep breath and assess where I am in aligned with God, his  purpose, voice and will.
How are you living a reflective life? Each month I look back at what I am discovering, learning, and exploring in life – I call these my monthly musings. Capturing these special moments gives meaning, depth, and delight to life. Let's wake up to the wonders in the ordinary all around us.
I record what I notice on the pages of my Monthly Musing Journal. You can use anything, scrapes of papers, a journal, or a calendar. Copies of my Monthly Musing Journal are available on Amazon and are a convenient way to keep track of the little things in life we often miss. Or if you want to click the button at the end of this post to get a FREE copy of my one sheet Monthly Musing handout.
What I Learned in June
Monthly Musing Lessons Learned:
I learned while having the extra time not writing as much is helpful and a necessity during this busy season of life – I miss writing. I cannot NOT write! Writing is a passion, an art, a way of being true to myself.
God continues to surprise me. What I noticed this month was how something that happened years ago is now bearing fruit. I took a series of classes within my faith community back in the late 90's, early 2000's. Completed all the work, had my name added to a list then nothing. Now in 2018, my bishop relooks at the list and opens up an opportunity for me. Almost 20 years later. Wow. Then a book idea I started to develop two years ago but lay dormant began to stretch its arms and wake up, calling me to pay attention to its wisdom. "It's my time," it is saying to my heart.
The word I am hearing in my prayers all relate to LIGHT.  Eat lightly. Hold lightly, See the Light. Be the light. Travel light.
As a number three on the enneagram, I tend to bury and ignore emotions. I hear the invitation to pause and ask myself – what am I experiencing right now? As a way to name and embrace all the feelings that compose my soul. I am learning what it means to be "real" in relationship with the Real.
On my recent retreat our wise leader's words struck me – "Discernment is always just the next step."  Too often I look past the next right thing to do or be – seeking the final answer that isn't visible yet. Focusing more on the yet to come than what is right in front of me.
Monthly Musing Good Reads:
New books on my table this month and in process of being enjoyed and embraced:
Essential Mystic Prayers by Paraclete Press. A small book of great prayers from past God Seekers filled with wisdom. Some familiar words here and some new ones to stir the soul.
The Book of Mystical Chapters – Meditations on the Soul's Ascent from the Desert Fathers by John Anthony McGuckin.  One of our retreat leaders read some of these short passages before prayers. Set the mood so well and quieted our hearts to hear God.
Sounds of the Eternal – A Celtic Psalter, Morning and Night Prayer – By John Philip Newel – another gem containing prayers that I am using with my morning devotions.
On quite a different note:  Canoeing the Mountains – Christian Leadership in Uncharted Territory by Tod Bolsinger. Recommended by my bishop and just starting to read this about being a leader in today's changing culture and dramatic shifts within the church.
Monthly Musing Word of the Month:
The word of the month is a new one for me
Tohubohu – a noun meaning chaos, disorder.
This word comes from Hebrew and used to describe the world before God said "Let there be light" in the book of Genesis. It has been translated as "formless and empty."
Interesting quote from Victor Hugo in Les Miserables using this word:
"Learn this: joy is not merely joyful; it is great. So be lovers gaily then, the devil! and marry, when you do marry, with the fever and the dizziness and the uproar and the tohubohu of happiness."
Have you ever heard this word before?
Monthly Musing Wise Words to Remember:
"All we're asked to do is to be in the world who God is. Certainly, compassion was the wallpaper of Jesus' soul, the contour of his heart, it was who he was. I heard someone say once, 'just assume the answer to every question is compassion.'"
Fr. Gregory Boyle
Good advice! Love and compassion as the answer to every question.
Some people have thousands of reasons why they cannot do what they want to, when all they need is one reason why they can.
Willis R. Whitney
******
The only way to make sense out of change is to plunge into it, move with it, and join the dance.
Alan Watts
Fun and Innovative Ideas I Discovered:
Fascinating gem found in On Being.
How many lives have you or will you touch?
A little bit into the interview John Paul Lederach shares this story:
"One of my big — most meaningful mentors that I had was Elise Boulding, who was one of the pioneer women of the peace studies field. Kenneth and Elise were a Quaker couple. And Elise always — she had this phrase about the 200-year present, and I think it might be useful, for us, to think about the current moment in reference to how she would frame the 200-year present. We students would be walked through this very simple exercise. You can do it right now, in the next two minutes. So here it comes.
If you just calculate, for a minute — so when she said "present," she meant, like, past, present, future. And she's saying, you live in a 200-year present. So if you go back to when you — at your youngest age that you can remember, who the oldest person was that held you, and then just calculate back to their birthdate, roughly. Mine would carry from Great-Grandma Miller, would go back into the 1850s — actually, into the period close to the Civil War. And then you do the second part of the process, which is, you think about the youngest member of your extended family — minus two months. And then imagine a robust life — to what decade might she or he live? And then she would always say to us, once we've done all this kind of work, she would look at us and say, "You were held and touched, and you will touch the lives, of people that cover a 200-year present."
And I think that's where we lose sight that there is a deep process of change that we are about, and it is impatient — as one of my friends, and one of the famous writers in Nicaragua, said: "It's impatient patience." We have a ways to go, don't we? We have a journey to take."
Wow what is your 200-year present? The oldest one I think for me would be my great Aunt Anna whom I have written about here and here about my deep soul connection with her across the ages. She was born in 1883. The youngest right now would be my grandson, Wesley born in 2016 – a period of 133 years – not quite 200, but still impressive and amazing when you consider how one life touches another.
And I will end on a challenging fun note.  How fast can you read?
If you want a copy of my cheat sheet I have made it into a free downloadable printable and you can just the button to get the free printable. I compiled these sheets plus additional information in a book, a two-year journal that is available on Amazon. I don't want to lose the loose sheets of paper and think having it in a book form will make it more of a keepsake. Keep all YOUR musings in one place.
Click here to request your Monthly Musings Printable
What did you learn in June? Please share – I would love to hear about your journey and all your life lessons.