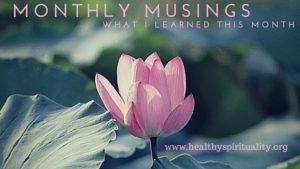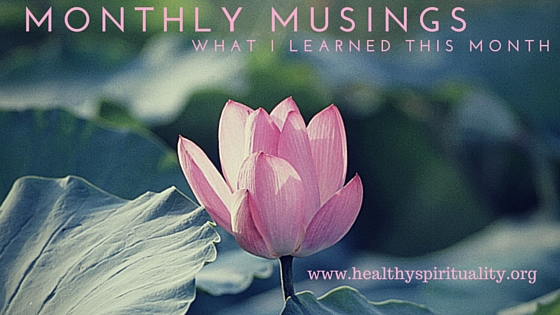 March Monthly Musings
Wow the first quarter of the year is gone, evaporated, finished and departed.  Where does time go?  I know writing these monthly musings helps me pause, reflect and appreciate the gift of time and life.
Each month I look back at what I am discovering, learning, and exploring in life – I call these my monthly musings.  Living this reflective practice helps me slow down and savor this precious gift of life we've been given and all the gifts to be discovered given by such a loving, gracious God.  Capturing these special moments gives meaning, depth, and delight to life.  Let's wake up to the wonders in the ordinary all around us, especially at this most sacred time of year.
I record what I notice on the pages of my Monthly Musing Journal. You can use anything, scrapes of papers, a journal or a calendar.  Copies of my Monthly Musing Journal are available on Amazon and are a convenient way to keep track of the little things in life we often miss. Or if you want to click the button at the end of this post to get a FREE copy of my one sheet Monthly Musing handout.
What I Learned in March
Monthly Musing Lesson Learned:
I am learning to SLOOOOOOW DOOOOOWN.  This is hard for me to do and even harder to decelerate my thoughts which race ahead of my actions and words.
On my annual silent retreat a few weeks ago, I deliberately slowed my eating, reading, and walking. I observed. I lingered. I savored life and all the gifts it brings. I felt rested, centered, and able to hear God deeply.
Amazingly, I re-entered the routine back at home and immediately resumed the hamster wheel. Until last week. Remembering how much better I felt not being rushed, I am now pausing more during the day, slowing a bit, taking deep breathes and enjoying life.
I have also felt more depth this year in Lent. I have journaled and prayed longer. I cherish the stories I hear from people I know and from the words I read. I have intentionally practiced no impulse buying and non-thinking eating. To be honest, the impulse buying has been successful – but I have failed at controlling mindless eating. More work to be done.
Good quote from Evelyn Underhill about Lent:
Lent is a good moment for a spiritual stocktaking; a pause, a retreat from life's busy surface to its solemn deeps. There we can consider our possessions; and discriminate between the necessary stores which have been issued to us, and must be treasured and kept in good order, and the odds and ends which we have accumulated for ourselves…. There are few who cannot benefit by a bit-by-bit examination of that equipment, a humble return to first principles; for there we find the map and road-book of that spiritual world which is our true environment.
Monthly Musing Good Reads and Book Finds:
Do you find yourself constantly checking emails or looking at your phone?  This article  called This Is How To Stop Checking Your Phone: 5 Secrets From Research convicted me of the addiction of my IPhone. Interesting read.
I enjoyed this article called "8 Words and Phrases We Should Use Again."  Any other word nerds among us?
"Lexicographers have to dig deeper into the language, down to the mucky bottom, which means that occasionally we run across a rare gem of a word that's been sludged under."
Hopefully this article with "gruntle" your heart.  Click here for the article.
Last month I introduced to this community the Healthy Spirituality Monthly Book Chat. Last month's book was Philip Cousineau's The Art of Pilgrimage and coming up in a few weeks will be Macrina Wiederkehr's Seven Sacred Pauses.
New books on my nightstand to read:
Addicted to Hurry – Spiritual Strategies for Slowing Down by Kirk Byron Jones
The Complete Enneagram – 27 Paths to Greater Self-Knowledge by Beatrice Chestnut
Monthly Musing Wise Words to Remember:
In those times, I can't seem to find God, I rest in the assurance that He knows how to find me.
Neva Coyle
******
Let us slow down enough to truly notice all that is presenting itself to us as a blessing.
Kristi Nelson

Terrific Tools and Tips or Innovative Ideas I Discovered:
Last month I mentioned new tool:
Travel Scale –I really liked this scale.  Easy to transport and if I stood still, accurate. I still enjoyed the food and did gain weight on our vacation to Florida, but at least I was aware of how I was doing and felt I returned to my Weight Watchers regime more quickly.
Literary Light switch covers – so cute and much needed in my office, don't you think?
Do you think you know all what you should know about common pen and paper?  Here is a free course on the proper way to use these tools. The one on legible handwriting helped me the most.
I love DaySpring's Illustrated Faith division for my prayer journaling.  Here is my find of month from them:
And this little fellow is coming with me the end of April for my newest grandchild:
A few affiliate links are used here, which means at no extra cost to you, making a purchase by clicking these links helps support this site. Thanks!
If you want a copy of my cheat sheet I have made it into a free downloadable printable and you can just the button to get the free printable. I compiled these sheets plus additional information in a book, a two-year journal that is available on Amazon. I don't want to lose the loose sheets of paper and think having it in a book form will make it more of a keepsake. Keep all YOUR musings in one place.
Click here to request your Monthly Musings Printable
What did you learn in March? As April unfolds, I will be reflecting on my recent retreat and the Macrina Wiederkehr book, so watch for those posts.
Please share – I would love to hear about your journey and all your life lessons.