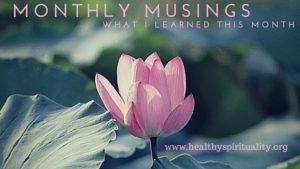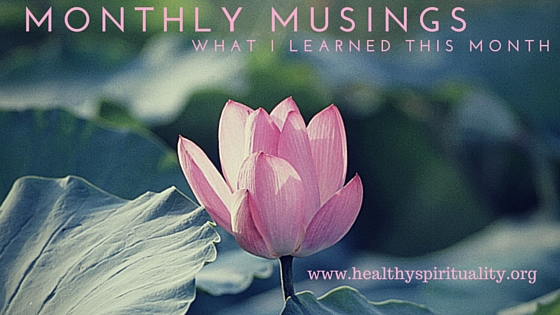 I am grateful for May. May represents for me the full blossom of spring, though in Ohio spring never really arrived – we zoomed from a very long dreary winter directly into 90 degree summer weather. But I do love May and June. The new growth. Catching up with neighbors as we spend more time outside. Watching 8 years old playing softball in the neighborhood field. And of course sweet taste of strawberries.  Yummy.
How are you living a reflective life? Each month I look back at what I am discovering, learning, and exploring in life – I call these my monthly musings. Capturing these special moments gives meaning, depth, and delight to life. Let's wake up to the wonders in the ordinary all around us.
I record what I notice on the pages of my Monthly Musings Journal. You can use anything, scrapes of papers, a journal, or a calendar. Copies of my Monthly Musings Journal are available on Amazon and are a convenient way to keep track of the little things in life we often miss. Or if you want to click the button at the end of this post to get a FREE copy of my one sheet Monthly Musings handout.
What I Learned in May
Monthly Musings Lesson Learned:
Why should I be so amazed? God continues to surprise me and shower me with blessings. Some days I shake my head in wonder and disbelief of his continuing mercy, grace, and love.
I end each day reviewing the past 24 hours and naming things I am most grateful for. This bedtime examen prayer opens my eyes and heart to notice God's touches throughout the day and unending gifts.
Here are two bubbling my heart lately:
I am more in love with my hubby now than ever before. I would have never guessed how love deepens as the years goes by. I am blessed.
Someone says something or asks me something that at the first moment appears like small talk or a minor blimp in time. That idea takes root like a seed and slowly grows into a new opportunity full of potential beyond my imagination. There is a young seedling sprouting right now in my life that I am not sure what it will look like as it matures or what fruit it will bear. But I know the Gardener and am experiencing his cultivation of this new growth and I trust his skill in nurturing its promise. All starting with one insignificant conversation that at the time I didn't feel the tremble of the earthquake as those words reverberating in my soul.
Each day holds a surprise. But only if we expect it can we see, hear, or feel it when it comes to us. Let's not be afraid to receive each day's surprise, whether it comes to us as sorrow or as joy. It will open a new place in our hearts, a place where we can welcome friends and celebrate more fully our shared humanity.
Henri Nouwen
Surprise is the starting point. Through surprise our inner eyes are opened to the amazing fact that everything is gratuitous. . . . In the end, gratefulness will be our full aliveness to a gratuitously given world.
David Steindl-Rast
 I have learned that the opposite of depression is not happiness, but delight. Grace fuels delight. Grace is that which tumbles into our lives, and we are spontaneously surprised by the goodness and beauty of living.
 Terry Hershey
Monthly Musings Good Reads:
I am rereading for the umpteenth time Sabbath: Finding Rest, Renewal and Delight in our Busy Lives by Wayne Muller.  This classic about the Sabbath is full of wisdom and inspiration as I try to find the boundaries in my moments and honor the Sabbath more as a practice.
I just picked up Mystics and Misfits: Meeting God though St. Francis and Other Unlikely Saints. by Christina N. Peterson. I am enjoying learning new things about St Francis, Dorothy Day, Margery Kempe, Clare of Assisi, and Simone Weil. One unique aspect about each chapter is her letter to each of them in a neat conversational manner.
Monthly Musings Words of the Month:
The word of the month  – as we enter the month of June –  is DISJUNE.
This was a new word for me. Disjune is a noun from Scotland that isn't used very much anymore and means breakfast.  What did you have for disjune this morning?
Monthly Musings Wise Words to Remember:
Guard well your spare moments. They are like uncut diamonds. Discard them and their value will never be known. Improve them and they will become the brightest gems in a useful life.
Ralph Waldo Emerson
******
O my God,
let me, with thanksgiving,
remember, and confess unto you
your mercies on me.
Let my bones be soaked with your love,
and let them say unto you,
Who is like you, O Lord?
You have broken my chains in pieces.
I will offer unto you the sacrifice of thanksgiving
And how you have broken them, I will declare;
and all who worship you, when they hear this, will say:
Blessed is the Lord in heaven and in earth!
Great and wonderful is his name!
A prayer of St. Augustine
******
Lord, you are like a wildflower. You spring up in places where we least expect you. The bright color of your grace dazzles us. Far from trying to possess you, you may possess us.
 Henry Suso
Fun and Innovative Monthly Musings I Discovered:
25 Things about the Birds in our Backyards – Fun quick article to read. I sure do enjoy God's creatures that feed, nest, and frolic in my backyard.  I think you will enjoy this article too:
I started this blog post with gratefulness and it is only fitting to end with it too. Take the time to savor this blog post, its lovely photos and gentle words. May it give you peace and help you too see God's surprises in your life. Here is the post I am referring to: The Gift of Sight.
If you want a copy of my cheat sheet I have made it into a free downloadable printable about monthly musings and you can just the button to get the free printable. I compiled these sheets plus additional information in a book, a two-year journal to record your monthly musings that is available on Amazon. I don't want to lose the loose sheets of paper and think having it in a book form will make it more of a keepsake. Keep all YOUR monthly musings in one place.
Click here to request your Monthly Musings Printable
What did you learn in May? Please share – I would love to hear about your journey and all your life lessons.