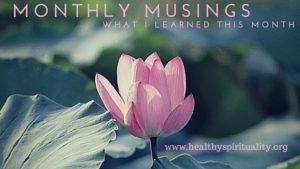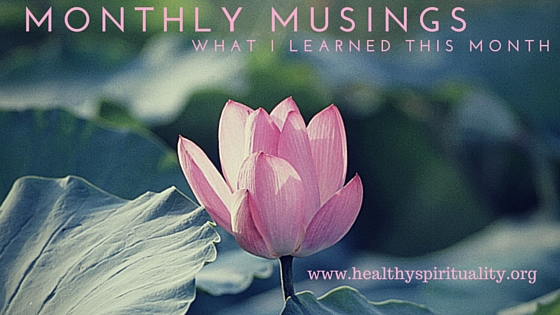 Monthly Musings.
Wow, the end of the year is fast approaching. Ohio definitely looks like late fall/early winter now and most places are shining with Christmas lights.
Time to reflect on the past 30 days – its lessons and growth edges for us.
Each month I look back at what I am discovering, learning, and exploring in life – I call these my monthly musings. Capturing these special moments gives meaning, depth, and delight to life. Let's wake up to the wonders in the ordinary all around us.
I record what I notice on the pages of my Monthly Musings Journal. You can use anything, scrapes of papers, a journal, or a calendar. Copies of my Monthly Musings Journal are available on Amazon and are a convenient way to keep track of the little things in life we often miss. Or if you want to click the button at the end of this post to get a FREE copy of my one-sheet Monthly Musings handout.
What I Learned in November
How can I best respond in love?
This is the question I am asking myself when confronted with a person, situation, emotion that challenges my spirit.  My ego wants to react, voice its own opinion, be defensive and maybe somewhat assertive.  My feelings demand to drive my retort.
My heart is learning to take over and hit the pause button before responding.  How can I best respond in love? Holy Spirit guide me with peace, wisdom, and courage to act, think, feel in a healthy manner.
I fail often in this endeavor but am slowly letting go of "me" and surrender to Love. Help me learn, Lord, to be more like you.
Monthly Musings Lesson Learned:
I had a tough week a few weeks ago. My hair dryer broke. Then my flat iron quit.  Then my older curling iron I was using in the meanwhile, handle fell off.
Sigh.  Such #firstworldproblems.
A little later I read this quote that resonated with my experience:
"The fact that we live at the bottom of a deep gravity well, on the surface of a gas covered planet going around a nuclear fireball 90 million miles away and think this to be normal is obviously some indication of how skewed our perspective tends to be." ~Douglas Adams
My, my how we see/perceive the world and our circumstances certainly changes our point of view.
So I am grateful for electricity.
For the resources and stores easily accessible to get new small appliances.
For heat in my house on a chilly too early for January weather November.
For hot showers and warm soft beds.
For family gathered around a Thanksgiving table with too much food.
For all the blessings I acknowledge and the million blessings I take for granted.
Monthly Musings Good Reads:
Remember my series on WOW Women offered earlier in the fall?  After reading one of the posts a good friend recommended Eric Metaxas book called 7 Women. I really enjoyed reading the short and inspirational bios on Joan of Arc, Susanna Wesley, Hannah More, Saint Maria of Paris, Corrie ten Boom, Rosa Parks, and Mother Teresa.
All of them WOW Women.
At this stage of my spiritual journey and in the cusp of a new year/decade, I especially loved Mother Teresa's wisdom.  She saw Jesus in every man, woman, and child she met and treated them accordingly.  I want to live like that.
She asked others, " Would you like to something beautiful for God?"  Yes, I do.
She lived in complete reliance on God and expected miracles to happen daily.  I humbly ask for a portion of that kind of faith.
This book fed my spirit in November.
I also read The Joy of Missing Out by Tonya Dalton, Live more by doing less.  A good motto especially for this busy time of year. Full of some familiar and some new strategies for thriving in a busy culture it is well worth the time to read.
One neat image I learn was the squirrel strategy. This is an approach to big problems that appear unsolvable.
"Have you ever watched a squirrel aiming to get something she wants? Perched in a tree, tail twitching, she sees a bird feeder and is drawn to it.  The homeowners, thou are smart and they've added all kinds of obstacles to make it "squirrel-proof'.
Does our squirrel take a look, decide she has no chance of getting to the seeds, and toss in the towel? Absolutely not. A squirrel will attack the problem from all angles, testing and pushing the boundaries of what she knows she can and cannot do until she sits triumphantly atop that feeder with a bellyful of birdseed,"
Great advice and image!
Monthly Musings Word of the Month:
Gallimaufry is an unusual but delightful word for "a hodgepodge; jumble; confused medley." It was borrowed into English in the mid-1500s from Middle French galimafree, a kind of stew or hash, apparently concocted from a mishmash of ingredients.
A fun word to use over the holidays and certainly described my life lately. LOL
Monthly Musings Wise Words to Remember: 
The idea that "change is hard" is one of the biggest myths about human behavior. The truth is, you change effortlessly and all the time. The primary job of the brain is to adjust your behavior based on the environment.
James Clear
Prayer is sitting in silence until it silences us, choosing gratitude until we are grateful.
Richard Rohr
Prayer pushes us through life's slumps, propels us over the humps and pulls us out of the dumps. Prayer is the oomph we need to get the answers we seek.
Max Lucado
Fun and Innovative Ideas I Discovered:
A fascinating six-minute video teaching us about how language changed over the years and throughout the world.  Did you know that Americans' pronunciation of "R" is very complicated? Very interesting.
If you want a copy of my cheat sheet, I have made it into a free downloadable printable and you can just the button to get the free printable. I compiled these sheets plus additional information in a book, a two-year journal that is available on Amazon. I don't want to lose the loose sheets of paper and think having it in a book form will make it more of a keepsake. Keep all YOUR musings in one place.
Click here to request your Monthly Musings Printable
How was your November? What are you most grateful for during this time in your life? Please share – I would love to hear about your journey and all your life lessons.