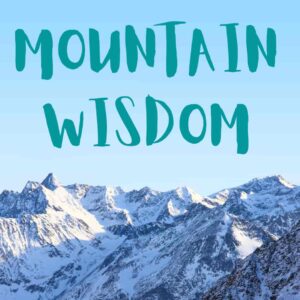 Can we hear wisdom from mountains?
In September Bill and I took a wonderful trip to six national parks. Three in the US (Grand Tetons, Yellowstone, and Glacier) and three in Canada (Waterton, Banff, and Jasper). Yes, all awe-inspiring and beyond words in creative beauty.
I picked up this card in a gift store in the Tetons and thought it would be fun to find one in each of the coming parks.  BUT this one was the only one I found.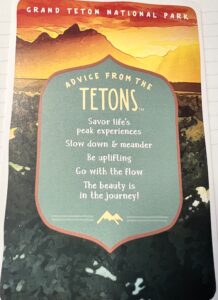 Bill and I then decided we would listen quietly to each place to hear its wisdom. God teaches us so many lessons in nature when we pay attention. 
"Believe one who knows: you will find something greater in woods than in books.  Trees and stones will teach you that which you can never learn from masters."  Saint Bernard de Clairvaux
Here is some insights from God's imagination and creativity:
Grand Tetons Wisdom (from the gift store)
Savor life's peak experiences.
Be uplifting.
Slow down and meander.
Yellowstone Wisdom
Beauty slowly emerges.
There is enough room in the world for all the diverse beauty.
After the fire, rebirth.
Glacier/Waterton Wisdom
Listen to the stories of our ancestors – our roots.
Pay attention and you will be surprised.
God must love rocks and the color brown.
Banff Wisdom
Don't let smoke distort your view.
Do it anyway – Take the risk – ride the gondola. Savor the view.
The clouds will lift eventually.
Jasper Wisdom
The crown of the Rockies – Native Americans consider the whole range the backbone of the world.
Never stop exploring.
What an adventure God gives us in life if we only take that one step to taste his Goodness.

"In every walk with nature, one receives far more than he seeks"

– John Muir
What is nature teaching you?