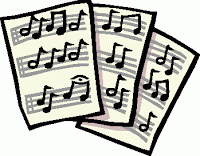 Our church just received new hymnals full of classic and contemporary songs to sing. I am happy they mixed the old and new tunes for such a wonderful blend of music styles. 
Let's have some fun today and see how many hymn writers can you match with their compositions:
Who wrote the following hymns? (Tried to be easy on you so most of the names are quite familiar)
2.
Jesus Christ is Risen Today
4.
A Mighty Fortress in our God
9.
All Creatures of our God and King
10.
Borning Cry  – I had to include this hymn since I have found many are not familiar with it and it is one of my favorites 
Listen to it here
Scroll down for the answers.
Interesting as I compiled this I realized how many hymns I knew the tune to, but knew nothing about its author. Each song has a person behind it carefully choosing every precise word that pours from his or her heart for the purpose of glorifying God. I think next Sunday when I sing each hymn I will pause, note the writer and composer, and say a word of thanks.  Somehow knowing more about the background of the hymn connects me with other pilgrims on similar journeys. 
May music refresh your spirit this week.
What is your favorite hymn and what do you know about its story?
Answers:
1.
Isaac Watts
2.
Charles Wesley

3.
Claire Cloninger

– had to include her as I have several of her books on my shelf and never realized before she also composed music. 
4.
Martin Luther

5.
Fanny Crosby

6.
Horatio Spafford

7.
George Frederic Handel

8.
John Newton

9.
Francis of Assisi

10.
John Ylvisaker