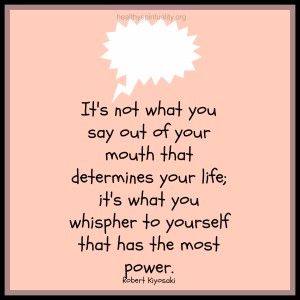 I'm not good enough.
I'm not smart enough.
I'll never make it.
I'm not worthy.
What's wrong with me?
Too often I allow my insecurities and imperfections to get the best of me and this can greatly affect any chances of achieving the dreams and desires God has for me in this life.
On Wednesday I listened to an interview with the author Julie Cameron. She talked about ideas in her classic book, The Artist's Way. I was fascinated with her friend, Nigel. This what she said:
I have an inner critic, a sensor, whom I call Nigel.
Nigel in my imagination is a gay interior decorator, who is British. Nothing I ever do is good enough for Nigel.
I think all of us have our Nigels and sometimes people come to me and they want me to eradicate their censor. The censor never goes away, unfortunately.
But we can learn how to work with it.
Julia Cameron
I never considered giving my negative thoughts a name before. Reminded me of something I learned last spring when I heard the expression "Invite your hindrances to tea." Make friends with these critical voices and learn how to deal with them.
Makes for a fun (maybe a little silly) and interesting challenge – let's name our inner critic – that negative, discouraging voice. When we give it a name, even a goofy name, the feeling becomes less powerful and can neutralize her effect. Once we see or hear that voice differently, we disassociate from it and can deal with the harsh words quickly and objectively.
I wonder what she looks like and by the way, I am sure she is female. The inner critic could be male for you. What color is her hair? What does she weigh? What is she dressed like?
I can't imagine these self-depreciating thoughts can be of God. I think they arise from my ego and from the devil. Sometimes they grow from what other people tell us. Know that your inner critic is simply our ego filling us with self-doubt. Give her a name if that helps you (the uglier name, the better), so you can tell her to leave you alone.
Naming the inner critic needs to be a name I don't like well, describes her clearly as not desirable or arouses a strong emotion within my heart.
Now I loved my mother but her nature did lean towards being critical. Her middle name was Elinor and so that name is on my list of possibilities.
Here are some options I thought of that reminded me of the devil:
Beelzebub or Bub for short

Lucifer or Lucy

Belial which means worthlessness

The Nag

Lizard or Liz
Researcher and writer Brene Brown calls her "The Gremlin."
Once I name this interior buddy, what now? Julia Cameron says a name helps her recognize the voice sooner and she just tells him to "shut up" or "Not now." Or " Is that really true? I don't think so."
I have thought about having conversations with her in my journal. Maybe once I understood her better, I would learn to live with her better.
Liz wrote a blog post on writing a love letter to her inner critic. Fun to read and very insightful.
You never intended to hurt me, as much as your words did in fact burn. You were simply trying to protect me, from failure, from disappointment, from others, from myself, from life… You were going about it the only way that you knew how; loudly and brashly.
I guess it comes down to deciding who we are going to listen to. God? Our true selves? Others? Voices from the past? Inner/false negativities? There is a time for some honest, self-critiquing but I know more often or not, negativity drains us of our motivation, distracts us from God, and steals our joy.
I am bigger than my inner critic.
My inner critic lies and deceives – it is not the truth.
Too often I am my own worst enemy.
Giving a name, a persona, to my negative self-talk empowers me to manage.
I know who I am – I am a beloved child of God.
Do you have a name for your inner critic?