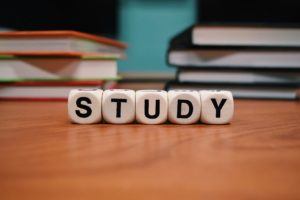 Nourishing a Healthy Spirituality –
The Spiritual Practice of Study
A healthy spirituality balances the nourishment of the mind, heart, and spirit. The spiritual practice of study is one habit that feeds us and keeps us going on this journey of life.
In March, we will explore how the practice of study as a spiritual discipline to strengthen our faith.  Each month on my Thursday posts, I pick one theme (or person of faith) to explore deeper. I call this series Tending the Holy Thursdays.
As usual I created a free download for you and this month it is something different – an infographic called "The 7 C's of the Practice of Study." You can get this infographic for your reference and even use as a bookmark at no cost by clicking on the button at the end of the post. It is my hope and prayer that this series and the download will enhance your walk with God.
Be sure to sign up to get Healthy Spirituality in your inbox so you don't miss any of the weeks (I promise I never over send stuff to you). And invite your friends to this blog and share on social media.  I sure do appreciate the support in spreading God's word.
The Spiritual Practice of Study
We study and learn, not to puff ourselves up full of useless knowledge, but to learn how to know and be with God better. How can we better serve and glorify God?
"Do not conform any longer to the pattern of this world, but be transformed by the renewing of your mind. Then you will be able to test and approve what God's will is—his good, pleasing and perfect will."
Romans 12:2
By strengthening our minds, we open our heart and feed our spirit too. Study helps us find God's wisdom and direction.
Study is a way of spending time with God either through the scriptures or through the written and spoken words of others. We learn his truth and hear his voice through study.
Study deepens our understanding of ourselves, others, and the world we live in. We pause and ask "What does this mean?"  We discover patterns and meaning in nature, books, presentations, art, and God's word.
The Apostle Paul wrote "Finally, brethren, whatever is true, whatever is honorable, whatever is just, whatever is pure, whatever is lovely, whatever is gracious, if there is anything worthy of praise, think about these things" (Phil. 4:8).
The practice of study is how we "think about these things."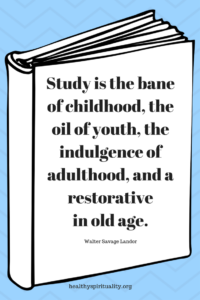 We don't stop learning when we finish confirmation or graduate – a healthier lifestyle, including a healthier spirituality, involves lifelong learning.
Introducing the 7 C's of the Spiritual Practice of Study
A healthy spirituality balances the nourishment of the mind, heart, and spirit. The spiritual practice of study feeds us and strengthens us for our life journey.
The next few Thursdays we dig in deeper into the 7 C's of study for a complete exploration of this practice.
  Curiosity – Listen to what you wonder about and spend time with those questions that call to you
  Commitment – Promise yourself to follow your curiosity and plan time and space to study
  Concentrate – Read and explore
  Cultivate – Observe and ask more questions
  Comprehend – Focus, take notes and study
  Contemplate – Listen to what God is teaching you and allow the wisdom to go deeper within
  Conversion – How did study change you? How will you now live knowing this?
Think about these 7 C's and how they may impact your faith.
Two Ways to Implement the Spiritual Practice of Study
I hope to launch this month a monthly book chat where I featured a Christian book that I am reading. I want to share info about the book and a nugget of truth from it. To be honest, I have a pile of books I want to read, but never seem to get to and now by telling you this idea, I am hoping I take the time for more reading and study in my own spiritual journey.  Watch for more info next week about this idea that I am calling the "Healthy Spirituality Book Chat."
I always take a couple of books with me on my spiritual retreats. This year my retreat is scheduled for the last weekend in March and I am praying about what God wants me to hear through his word and other readings. If you have never been on a retreat before or want to go deeper with this practice, you may be interested in a book I wrote last year, Spiritual Retreats: A Guide to Slowing Down to be with God."  And here is a secret:  My birthday is March 18 so the book, both the printed and the e-book version, will be $2.00 off the regular price for my birthday on Amazon from March 12-19.
Don't forget to download the infographic, The 7 C's of the Practice of Study by clicking on the button below.
How do you use study in your spiritual walk?