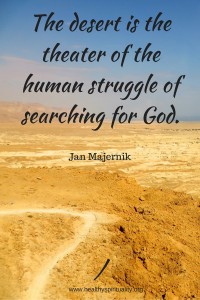 On Thursdays in November we have been walking with the Desert Mothers and Fathers and their desert spirituality. You can read the previous post and who they were and what practices they used in the posts below or by clicking on the links in this sentence.
Ever wonder about the symbolism in the desert and how that environment impacted their faith? Let's explore desert spirituality today.
"Desert spirituality is a spirituality of struggle, which is inevitable as we seek to know and to journey into ourselves, to face the demons in the depths of our personalities.
It is a struggle with the apparent absence of God and a struggle in the darkness of our own emptiness and insufficiency."
David Prail
As a writing I often had to stop as I write the word desert – are there two "S's" or only one? Then I remember my high school English teacher reminding us that dessert has two since lots of people want dessert, but no one really wants the desert.
What can the desert teach us? I would think God would have tons of lessons there for us since desert land makes up anywhere from 20 to 33 % of the land on earth. This includes the polar regions. The Antarctic Polar Desert covers the continent of Antarctica and has a size of about 5.5 million square miles. Wow, I didn't know that before.
Must be lessons waiting there for us to discover…
Desert Time
When we were in the Holy Lands last year I was amazed at the vast never-ending landscape of the Judean wilderness where Jesus spent 40 days. (Luke 4: 1-2) The desert provided the nature and nourishment for the Desert Mothers and Fathers. Even Paul after his call spent time away in Arabia (Gal. 1:17). John the Baptist and Elijah did too.
Where is our desert today and what are its lessons? I think the desert to me is intentionally taking time away from the craziness of life, the noise of the world and the ambition of my ego. The desert is where I have no defenses and stand vulnerable relying only on God for my guidance and protection. It is spending deep time with God in longing, loving, silence and letting go.
Ron Rolheiser writes that the desert is the place where we do battle with Satan. Often we flee from desert times and its silence because we don't like what see/hear/encounter there. But we can face our sins, our demons, our shadow side and emerge stronger knowing God is in charge.
Dedication and Determination of the Desert Mothers and Fathers
To live in the desert requires courage and a drive to give all to God. We are stripped of all of our masks and pretenses. Our independence and reliance only on ourselves.
We long for God. We need God. And God is there with us. The desert becomes a place of encountering God. That thought can be frightening and exhilarating at the same time.
These Desert Mothers and Fathers diligently practiced their faith – regular times of prayer, work, intently listening to God. They taught others and sat at the feet of those wiser than they were. A deep thirst for learning.
"The desert is a way of living, of learning to be fully human, of learning to love. Everyday offers us the possibility of remembering and recognizing the presence of God in us, with us, through us, healing us and making us new."
Mary Earle
Dryness
Dryness fully describes the desert and desert spirituality. We thirst for a closer relationship with God. I feel some comfort knowing that dryness is part of my faith journey and all who seek this deeper connection with our Creator experiences the dryness of the desert. I am on the right path.
Thomas Merton writes, "We do not go into the desert to escape people but to learn how to find them; we do not leave them in order to have nothing to do with them, but to find out the way to do them the most good. But this is only a secondary end. The one end that includes all others is the love of God. However the truest solitude is not something outside you… it is an abyss opening up in the center of your soul. And this abyss of interior solitude is a hunger that will never be satisfied with any created thing."
Only God is the living water that will quench our deepest thirst.
Quiet – Tending the Holy
The desert is quiet. I want to fill up the spaces with something – music, my thoughts, my words either in voice or in pen. That awkward silence is distressing and comforting at the same time.
An explorer in the Antarctic desert wrote – "The Desert: at first you think there's nothing there, don't you? And then there is too much."  The deserts are full of life, diverse life once we begin to explore and see it. The lesson here is being open to new ways and adapting new customs in order to live and thrive here.
I will close with another Thomas Merton quote to consider when thinking about desert spirituality:
"The contemplative life must provide an area, a place of liberty, of silence, in which possibilities are allowed to surface and new choices – beyond routine choice – become manifest.
It should create a new experience of time… one's own time, but not dominated by one's own ego and its demands."
I feel like my thoughts are all over as I ponder desert spirituality so I look forward to reading your thoughts and reactions to these words. What do you think? How do you experience desert times? What have you learned there?