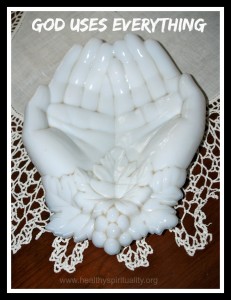 God uses everything. Why am I so amazed to realize that once again? We worship a God who loves to surprise us.
Did any of you watch 60 Minutes last Sunday? They featured an experimental therapy at Duke University to treat brain cancer and the segment was called "Killing Cancer."
They infect tumors with the poliovirus and in some cases the tumor is gone!
Polio– a disease we have fought to eliminate, which is good – I know people today who had polio as children and still have effects. Polio – just the word scared parents in the 1950s. I never in my wildest dreams thought I would hear: polio: cancer killer.
Now to him who is able to do immeasurably more than all we ask or imagine, according to his power that is at work within us…
Ephesians 3: 20
Isn't it amazing? God does immeasurably more that all we ask or imagine…
Just hold that thought in your heart and reread those words.
Immeasurably more than we can ever ask or even imagine.
Thank you, Lord! I would never imagine something I thought of as bad – polio – to be a cure for cancer.
The scientists at Duke reengineer the virus by removing the portion of the genetic material that may give the patient the disease. What do they replace that portion with? Are you ready for this? A genetic segment from the cold virus!! Another scourge, unwanted, what we normally would consider a negative in life being used for good.
The report did acknowledge that half the patients having this experimental treatment have died, so it is not a cure yet. YET.
We know that all things work together for the good of those who love God: those who are called according to His purpose.
Romans 8: 28
This news story has lingered in my soul this week. I wonder what else I assume, experienced or have been told about and classify as evil, bad, hope that never happened to me encounters are just seeds in the hand of God that will someday blossom and produce fruit.
Be cheerful no matter what; pray all the time; thank God no matter what happens.
This is the way God wants you who belong to Christ Jesus to live.
I Thessalonians 5:18 (The Message)
I struggle giving thanks for all things "no matter what happens" but this news story reminds me that often we don't see the whole story. Our vision is shortsighted and blurry when peering for the finish line. What we think is an ending is often just the beginning of something grand and new – all in God's hands.
Pondering all this reminded me of the story about Corrie ten Boom when she and her sister was in the concentration camp. Her sister in her prayers thanked God for the lice. The lice? Corrie thought she was crazy but her sister remembered that verse from Thessalonians to be thankful in all of our circumstances and obeyed its command.
The sisters found out later one reason the guards never bothered them much and they could pray together was the guards were afraid of catching lice themselves so left them alone. What Corrie thought of as a nuisance ended up a blessing.
Lice a blessing?
Polio a cure?
Makes me see my difficulties in a new light. I wonder what negative uninvited problem lurking in my life right now God is already working on, transforming into a story of beauty, grace and love.  I can't wait to see the finish masterpeice.
What amazes you about God?