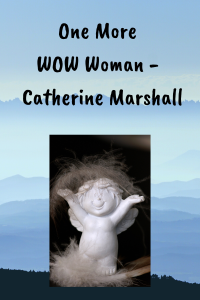 At my meeting last Tuesday night, I mentioned a wow woman who influenced me both in my younger years and continues yet today: Catherine Marshall.
The women in the room never heard of her.  Even an older woman stared at me blankly with no recognition of her name.
I knew Catherine Marshall needed to be the next woman featured in this series.
Who Was Catherine Marshall?
Catherine lived from 1915 to 1983. In the 40's she married Peter Marshall who became the chaplain in the US Senate. They had one son, Peter Jr.
Tragically her husband died of a heart attack and Catherine was left alone to raise their 9-year-old son.
Soon afterward, Catherine began to write. She shared the story of her husband in the popular book titled A Man Called Peter and she published a collection of sermons by her husband. She ended up with more than 20 books to her credit.
Her most famous work was the 1967 novel, Christy, inspired by her mother's journey into Appalachia to teach. Christie was made into a movie and is the namesake of the national award given to novelists called the Christy Award. This award is given annually to nurture and encourage creativity and quality in the writing and publishing of fiction written from a Christian worldview.
Catherine remarried Leonard LeSourd, who was the editor of the Guidepost Magazine so her writing career continued to grow.
In her books, she openly shared her faith, her doubts, her struggles, her prayers. She faced three long years in recovering from TB in the 1940s and endured the deaths of two grandchildren later in life. She never lost faith and shared in her writing and her journey with God.
Books and Quotes by Catherine Marshall
A Closer Walk (co-author)
Catherine Marshall's Story Bible
Catherine Marshall's Storybook for Children
Footprints in the Snow
Friends with God
God Loves You
Heart of Peter Marshall's Faith
John Doe, Disciple
Let's Keep Christmas
Mr. Jones, Meet the Master
Moments that Matter
My Personal Prayer Diary
Prayers of Peter Marshall
Quiet Times with Catherine Marshall
The Best of Catherine Marshall
The Best of Peter Marshall
The Collected Works of Catherine Marshall
The First Easter (co-author)
The Inspirational Writings of Catherine Marshall
Once we recognize our need for Jesus, then the building of our faith begins. It is a daily, moment-by-moment life of absolute dependence upon Him for everything
******
The purpose of all prayer is to find God's will and to make that our prayer.
******
The only time I ever find my dealings with God less than clear-cut is when I'm not being honest with Him. The fuzziness is always on my side, not His.
******
Of course, you'll encounter trouble. But behold a God of Power who can take any evil and turn ti into a door of hope.
******
Lessons Learned
I devoured her books as a young teen. I wanted a faith like hers.  I wanted to write like her.  I wanted to pray like her.
I love her honesty in her writing and how she shared her intimate struggles to walk with Christ. She was always seeking Him.  Multiple times I thought, "I want to be like her. I want to write like her."  She is a major reason why I am a Christian writer today.
I learned to pray and deepen my desire to be faithful through her writings.
I saw the value of journaling as a spiritual practice.
She showed me how to open my heart and realize my hunger and thirst for more, more of God.
Through her words and witness, I grew a better understanding of the journey of faith, its ups and downs, and the ever-present, ever-faithful Lord by our side.
I am curious if you remember or knew of Catherine Marshall?  What lessons do you see/hear in her story?