Ice breakers!
Love
'em or hate 'em – they do help to create a group spirit and build relationships. Sometimes they are fun. Other times, thought provoking.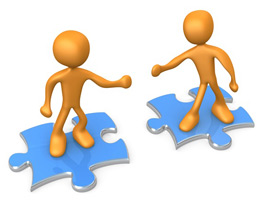 I attended a retreat a number of years ago where the first night they had us line up in two lines facing one another. We had 60 seconds to talk to the person in front of us before a bell rang and we moved onto another person.
We shared: If you were having lunch with Jesus, what one question would you ask Him?
I will never forget the answer I heard over and over again:
Am I doing ok?
Most people said the question with lots of hesitance and obvious self-doubt as if they weren't doing alright, God wouldn't love them as much.
Why is it so hard to bring the love God has for each of us from our head to our heart?
Why don't we really believe, grasp onto and share with others this unconditional, overwhelming love?
Why can't we accept ourselves, as imperfect as we are, as God's children?
I watched a
Chonda Pierce video
last weekend where she ended her show singing a song about God's love called "You are Beautiful to Me." After listening to the lyrics, I thought about that retreat and the recurring question.
I couldn't find a video to put here to share it with you but here are some of the words:
Every morning He sings over me:
You are beautiful to me
Just the way I planned
Just the way I see
You are beautiful to me.
Every hair I counted
Every tear I see
Just the way I created you to be
You are beautiful to me.
Take a moment and imagine God singing over you every morning.  He delights in just how much you mean to Him.  All He sees is His beautiful creation.
Are we ok?
In God's heart, we are just the way He planned.
We are beautiful.