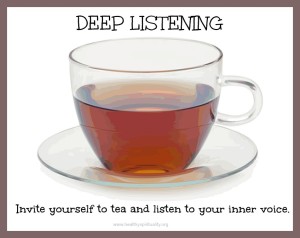 As a spiritual director I have learned the practice of deep listening. And besides being beneficial for the people I companion, I have discovered one surprising award for myself.
Deep listening involves quieting myself through prayer, stillness and deep breathes before meeting with someone. Then while I sit with them, I am open to the Spirit's whispers, nudges and leading to offer silence, ask questions and pause before speaking. The focus is about the person I am with, their reflections, not my opinions. I am fully present to them. I honor the sacred ground I am on with another and hold that moment without judgment. I listen for the unspoken words, the hidden meanings behind their stories, where God may be appearing in their life.
As I cultivate this deep listening skill, I have been surprised to notice I now listen to myself more deeply too.
All those gifts offered freely to another: presence, nonjudgmental, silence, pause, honoring the inner stirrings, and sorting out of the various voices within my heart – have all slowly transformed how I treat myself too.
Listening to myself
For the first time in my life I am beginning to befriend all the voices within my heart and head. I allow that vulnerable, passionate and often quite loud ego to speak up and express its fear since I know deep down it is only trying to protect me.
I listen to the voice of values and high ideals – the one who holds my loftiest aspirations and sometimes unattainable dreams.
I give time for that gut feeling to speak up to provide wisdom on which direction to take.
And I have learned to pause to allow the right answer, decision, or word to bubble up, emerge from all their conversations. Once I pay attention to these voices is the point I quiet them enough to hear God and sense his leading.
What a gift God has given us for this type of self reflection.
Pixar's Inside Out
We watched the new Pixar movie this past weekend, Inside Out, a delightful tale about a little girl and her internal emotions of joy, fear, disgust, anger and sadness. This five characters within her try to run her control center as she reacts to the outside world. How they work together and don't succeed at least at first is another approach to deep listening and understanding our thoughts and behaviors.
Joy is the emotion trying to make all the decisions in this movie. Yet we learn at times all of the voices have a contribution to make. There is one scene where Joy tries to cheer up another character who has lost something of value. She tries everything to make him smile including all the platitudes we have often said to someone when we don't know what else to say. Then Sadness simply walks up, sits down and acknowledges the loss and listens to him. That is what he needed at that moment. Wonderful lesson that it is ok and very normal sometimes to be sad.
Deep Listening
Deep listening to ourselves is a skill to cultivate and offer ourselves with self reflection and prayer. Recognizing and spending some time with our various and at times conflicting emotions and voices bring peace and clearer decision-making. We hear God better.
"Listen to your own voice, your own soul,
too many people listen to the noise of the world,
instead of themselves."
Leon Brown.
Spiritual listening to others and ourselves requires us to sort through all the internal and external noise to hear God's heartbeat, that deeper sound that vibrates within us. It is like God's music, his symphony written just for us, playing in our hearts. If we miss a beat or a note, we stop, and listen again to get back to His sacred rhythm. And the beat goes on.
How do you listen to yourself and discover your inner voices?