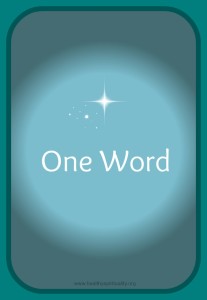 Many people skip New Year's resolutions and let one word guide them throughout the year. I have embraced one word for the last few years and found it's fun to see how its meaning threads itself among the details of daily life. Often I don't see it until I "harvest" my journal in a day of reflection.
If you have asked me a few weeks ago I would have told you I failed to hear my one word much last year. That is until I spent time rereading my journal and reflecting on the year – a wonderful spiritual practice, by the way. 
In hindsight I saw how God ENFOLDED me at multiple points of last year. And I know with some sadness that I have missed experiencing His hug by not paying attention. I focused more on discouragement, disappointment, and difficulties than on God's presence. I hope not to live so mindlessly in 2015 and miss his lessons next year.
Last year I even discovered a second word, an "UN" word that evolved as a compass for the year: UNDIVIDED.
I learned new ways last year to live and love undivided.
This year? I am not sure of an 'UN" word yet, but am drawn to UNTRUE.
I know that may seem odd to you but I find when I am tired, stressed, and sick, I lapsed into the old habits of discouragement, procrastination and defeat. I lose my sense of value and being a loved child of God and drown in loneliness and self-pity. These feelings are UNTRUE! And I need to recognize this hard wired response of mine and set it aside. As a loved child of God I do matter and am enough and acceptable as I am. God loves me. That is the truth where I will reside.
Do you find a new word for a new year? Some ideas can be found at the website called One Word and on many other blogs. I like the idea that the word chooses us, not we chose it.
I listen for a word that resonates deep inside me. I watch for a word that seems to come alive when I see it in print. I reflect my deepest desire for the next year and wait to see what bubbles up.
What emerged for 2015 for me is: STILLNESS.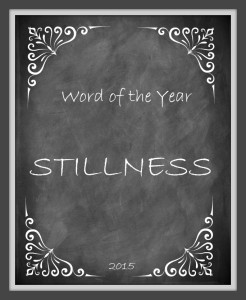 One word.
I look forward to seeing where STILLNESS leads me and even challenges me this year. Sometimes in stillness I may not like what I find but I am going to allow this word to do its magic. And I hope and pray I pay attention to the moments of stillness that comes as refreshing gifts to my soul.
And a Bible verse has also surfaced for me for the year.
One thing I ask from the Lord,
This only do I seek:
That I may dwell in the house of the Lord
All the days of my life,
To gaze on the beauty of the Lord
And to seek him in his temple.
Psalm 27: 4
One word. One verse.
Do you have a word and/or verse for 2015?