In the sixth month the angel Gabriel was sent by God to a town in Galilee called Nazareth,
to a virgin engaged to a man whose name was Joseph, of the house of David.
The virgin's name was Mary.
Luke 1: 26-27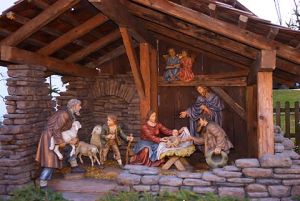 Lord I read the other day that Nazareth was a tiny town with probably 500 residents.
Mary was an ordinary teenager with all the hopes and dreams of many a girl.
Yet you used both this small village and a common unknown person to change the world.
And I doubt that you can use me too?
I worry that we can't make a difference in this shattered, fragile world?
I live in a town of less than 900 people.
I am not well known, famous or loaded with money and talent.
Yet you call on me. You call on all of us – to follow you and live like Jesus.
Help me heed your invitation.
       Understand your ways.
             Share your good news.
                    Be your love.
Show me the wisdom to know where you are leading even if it is only one step at a time.
May I respond like Mary saying, "Here am I, Lord, your servant. Let it be according to your word."
You bring good news to all people, no matter who they are or where they live.
With you nothing is impossible.
My heart is willing and open.
Help me trust in your powerful spirit, Lord to transform our world through ordinary people in little known places.