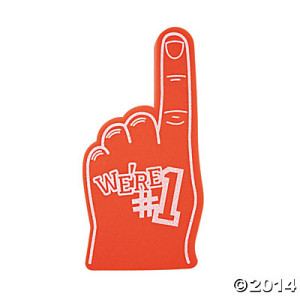 We are having a parade this weekend at church in celebrating Palm Sunday. I get to help lead the children in, waving their palms and shouting Hosanna. One of the few times they get to yell in church!
I want to find one of those foam "number one" gloves to wear. Jesus is number one!
Well at least he was the day he rode into Jerusalem to the praise of the crowds.
Before everything changed from cheers to jeers.
From hailing a king to crucifying the King.
From adoration to abandonment.
That finger that pointed heavenly, praising Jesus suddenly became a finger pointing to crucify him.
In the midst of celebration and good times, the truth of the rest of Holy Week weighs on my heart. I know what is coming. I wondered about the custom of starting this holy time of year with this story of Jesus' triumphal entry into Jerusalem.
The celebration of Palm Sunday originated in the Jerusalem Church, around the late fourth century. By the fifth century, the Palm Sunday celebration had spread as far as Constantinople. Changes made in the sixth and seventh centuries resulted in two new Palm Sunday traditions – the ritual blessing of the palms, and a morning procession instead of an evening one.
Zechariah 9:9 prophesized that the King would ride on a donkey, having his way paved with palm branches. The donkey was a symbol of peace; those who rode upon them proclaimed peaceful intentions. The laying of palm branches indicated that the king or dignitary was arriving in victory or triumph.
Today, Palm Sunday traditions are much the same as they have been since the tenth century. In some countries, palms are placed on the graves of the departed. In colder northern climates, where palm trees are not found, branches of yew, willow, and sallow trees are used. The palms blessed in the ceremony are burned at the end of the day. The ashes are then preserved for next year's Ash Wednesday celebration.
The Palm Sunday fact that fascinated me the most was learning the modern name of the palm leaf: Phoenix dactylifera.  Long ago this tree was called the phoenix tree due to the shape of the leaf and its ability to grow new foliage even after being burnt.
The Palm rises from the dead just as Jesus does. Waving palm leaves celebrates his coming defeat of death and sin  – a foretaste of Easter. Significant symbolism of the resurrection.
On Sunday each of us at y church will get a palm leaf as we enter church. Mine will come home with me to remind me that even on the darkest days and the worse weeks and the dreaded waiting in the unknown times of life, there is new life coming.
And that foam finger will point back to the place where all my hope lives – in the heart of Jesus.
Hosanna!