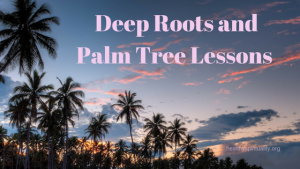 Palm trees – my heart skips when I first see their distinctive majestic shapes, waving gracefully and welcoming me into their locale.
You see I live in Ohio and palm trees don't grow here. I recently wrote about how trees embody my spirituality and palm trees are one example of the lessons I learn from pondering these elegant creations of God.
I think this affection is rooted in my childhood. We vacationed a lot in Florida where my dad's sisters lived and palm trees represent fun and family to my heart. I am now learning palm trees also serve as symbol of faith for me.
My hubby and I just returned from Florida and witnessed some of the destructive aftermath from the recent hurricanes. We saw broken billboards, tarps on roofs and even a few trees atop of cars. Side streets were still lined with limbs and palm branches, but we rarely saw any uprooted palm trees. My sister-in-law told me this is due to their unique root system.
I am learning to pay attention when my spirit is stirred by God. What was he telling me in these lessons from the palm trees?
Palm Tree Lessons
The righteous flourish like the palm tree,
and grow like a cedar in Lebanon.
Psalm 92: 12
Be Flexible – Palm trees survive the winds and storms of hurricanes because they are flexible. Did you know palm trees are not really made of wood, but of a spongy tissue that is more malleable and bendable? This reminds me not to be so hard hearted and stubborn, especially in trouble times.
Be Resilient – I read that palm trees are the most robust of trees and some people believe that storms strengthen their root system. Researchers learned this insight when they planted trees in the desert inside of domed living environment called a biodome.
Trees had everything they needed; air, water, healthy soil, and filtered light. The perfect conditions, right? Not really. Trees grew to a certain height, but they began to topple over. At first the scientists were baffled, but soon learn they forgot the natural element of wind. The trees needed the wind to blow against them, causing their roots systems to grow deeper which provided strength and long term support for life.
Trees with a strong root system also bounce back to their former position quickly after bad weather, reminding us that living our normal routines and ordinary daily duties helps our recovery. Growing deep on the word of God, time spent with him, modeling our lives after his, and serving and loving others as God does, gives us strong roots.
Be Hopeful – Palms grow differently than other trees because they have one terminal bud. If that bud is not damaged, palms may lose all their fronds (leaves) and still survive. It may take time to have the leaves grow back but even if the tree appears dead, stripped of all its leaves, life goes on. Losing those leaves may be a good strategy, helping the tree to better resist the storms better. This gives me hope during dry and difficult times of loss and tragedy.
Be How God Created You to Be. Most trees grow a beautiful canopy of branches and leaves that spread out and collect the sunlight and rain. These branches provide fruit and homes for birds and squirrels. But in bad storms, this formation acts like a sail capturing the brunt force of the wind, allowing the gusts to tear off branches and uproot a whole tree.
Palms are different as they are monocots, like orchids, that grow in one single shoot upward in a single direction, not spread out with branches. A symbol of keeping our eyes only on God and not getting so scattered in life.
Palm leaves actually fold up in storms to add to their resistance to the wind. Sounds like prayer to me!
Palms have been described as self-cleaning – knowing when to shed their leaves and get rid of dead fronds, reminding us that we too need occasional pruning of what is no longer working or needed in our lives in order for new growth to occur.
And monocots don't get thicker with age either. Did you know that the older a palm tree is, the sweeter its fruit?
They will still bear fruit in old age, they will stay fresh and green.
Psalm 92: 14
Be Welcoming – Researchers observed that palm trees that grow together with other palm trees survive storms with less damage than those growing by themselves. God created us for community and as challenging as that can be at times, we thrive better together.
Be Deep – Dig deep into God like a palm tree. Palms spread their roots out great distances – broad and deep, creating a solid foundation in the ground.
Palm trees remind me that strong winds can be a blessing. Deep roots take time, but are invaluable for healthy survival. When we listen to God's lessons in nature, we learn, grow, and thrive in this spiritual journey of life that God has given us.  Flourish like a palm tree.
What lessons has nature been stirring in your heart this season?