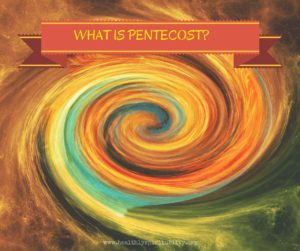 Pentecost Sunday is May 31.  And you thought that was only Memorial weekend.  Ha! But the joke is on me. My internal sense of calendar and time are so warped in this pandemic as I wrote this post I didn't realize Memorial Day arrives May 25! I have certainly lost track of the days and dates in this strange time of Covid 19. Is it the same for you?
But I digress…back to Pentecost.
In 2010 I wrote a blog post about Pentecost and thought I would update that info and offer new quotes for you to ponder.
What is Pentecost?
Pentecost is the celebration of the coming of the Holy Spirit to the early Christians. It marks the birth of the Christian church and means "fiftieth day," as it is celebrated fifty days after Easter.
Red is the liturgical color for this day. Red recalls the tongues of flame in which the Holy Spirit descended on the disciples.
A tradition of some churches in ancient times was to baptize adult converts to the faith on this day. The newly baptized catechumens would wear white robes on that day, so it was often called "Whitsunday" or "White Sunday" after these white baptismal garments.
On the 50th day after the Sabbath of Passover week, the Jews celebrated a festival of thanksgiving for the harvest. It was known by different names:
Feast of Weeks (Ex. 34:22; Deut. 16:10)
Feast of Harvest (Ex. 23:16)
Day of First fruits (Num. 28:26)
The "Feast of Weeks" was the second-most important festival for the Jews. (The most important was Passover.) This explains why so many people from all over the Roman Empire were in Jerusalem on the day when the Holy Spirit arrived. (see Acts 2)
Quotes
Without Pentecost the Christ-event – the life, death, and resurrection of Jesus – remains imprisoned in history as something to remember, think about and reflect on. The Spirit of Jesus comes to dwell within us, so that we can become living Christs here and now.
We do not need to wait for the Holy Spirit to come; he came on the day of Pentecost. He has never left the church.

John Stott
Bethlehem was God with us, Calvary was God for us, and Pentecost is God in us.

Robert Baer

Pentecost is a celebration of God… a celebration of God's power… a celebration of God's desire to empower us and to dwell within us.

Mark Hart

It has seemed to me sometimes as though the Lord breathes on this poor gray ember of Creation and it turns to radiance – for a moment or a year or the span of a life. And then it sinks back into itself again, and to look at it no one would know it had anything to do with fire, or light. This is what I said in the Pentecost sermon. I have reflected on that sermon, and there is some truth in it. But the Lord is more constant and far more extravagant than it seems to imply. Wherever you turn your eyes the world can shine like transfiguration. You don't have to bring a thing to it except a little willingness to see. Only, who could have the courage to see it?

Marilynne Robinson
Too many churches have become mausoleums for the dead rather than coliseums of praise for a living God. They have lost the spirit of Pentecost! They have lost their enthusiasm. They have lost their joy for Jesus and find themselves suffering from what William Willimon calls "Institutional and spiritual Dry Rot." If the Church is to survive the next millennium it must recapture some of the praise and enthusiasm it had two millennia ago.

Carlyle Fielding
I had so much fun compiling ideas for this special day, I put them together on a Pentecost Celebration Ideas Guide. You can download it here for free. I even included the recipe for the cupcakes with the flames of fire, too.
How will you celebrate Pentecost this year?