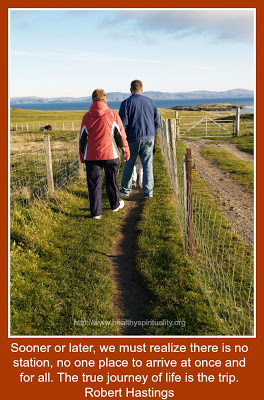 If you read this blog regularly you know I returned last week from a pilgrimage to Scotland and England, including two wonderful days on the island of Iona, home of Celtic Spirituality. The next few blog posts will share some of my experiences while on this journey.
We left for the overseas flight on October 21, but my pilgrimage preparation began before that. I prayed for an open heart and God's help to pay attention to the things He wanted me to see. I journaled my hopes and dreams for this trip. I emailed friends for advice, such a Nancy Franson, who earlier this summer also stepped into the unknown for a God adventure. You can read her marvelous summary of her trip here.
I searched for a special scripture verse to carry with me on this trip. Being an overachiever, I first thought of full chapters in the Psalms or the entire book of John, but God in His wisdom quietly led me to one verse:
This is what the Lord says: 
Stand at the crossroads and look; 
Ask for ancient paths,; 
Ask where the good way is and walk in it. 
And you will find rest for your souls.  
Jeremiah 6:16.
A perfect traveling verse for me to ponder, pray and carry in my heart.  The Message translated the meaning to say if I take this road, this old road, it will be right one for my soul.
What has others said about pilgrimage?
Pilgrims are poets who create by taking journeys. Richard Niebuhr
Pilgrimage in feet-on-the-ground spirituality. Jan Sutch Pickard
The experience of the pilgrim in actually walking in the way of others enables them to become a participant in all that has happened The pilgrim becomes one with all who have gone before. – Phil Cousineau
I know many of you may never actually go on a pilgrimage, but as the plane roared and maneuvered it way across the Atlantic, I realize inside each of us there is call to journey. God walks with us as we explore this precious gift of life. My prayers were not just for this particular trip, but also for every moment of my life:
May I be willing to embrace God's adventures and surprises.
May God make safe to you each step;
May God make open to you each pass;
May God make clear to you each road,
and may He take you in the clasp of His own two hands.
How is your life like a pilgrimage journey?