I, God, am your playmate!
I will lead the child in you in wonderful ways
for I have chosen you.
Beloved child, come swiftly to Me
for I am truly in you.
Then I shall leap into love.
(1207-1282)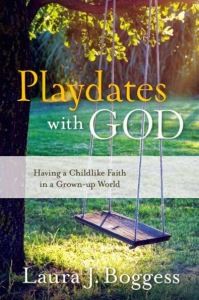 My daughter, Katie, arranges playdates for her kids with other children. They spend joy filled hours together, playing, learning and building relationships. Creating memories is perhaps one of the best gifts from playdates.
Do you ever have a playdate with God?
I tend to approach my time with God with a serious adult face (mask?) or an attempt at being more spiritual and filled with worship or occasionally with genuine humbleness seeking comfort and maybe forgiveness. After all this is God – our creator, the Almighty, the One and Only, the Savior.
But I also think God loves the joy and delight of just being with us too.
I love the quote above by Mechthild of Magdeburg – what an image – God as a playmate!
I am enjoying reading a new book by Laura Boggess called Playdates with God, Having a Childlike Faith in a Grown-Up World. It's a great book to show us how to shed our adult grown up masks and rediscover the childlike wonder of the "forgotten God-joy."
The chapter titles even invite us into playfulness: Super Soaker: when life feels dry; Castles, ziplinging and zorbing: redefining adventure, and Hammock: why you are never too old for naptime.
What I liked about this book in the imagination, freedom and invitation to fall in love with God once again. I loved the author's, Laura Boggess, confession that she used to think the answer to life was found in making lists – me too. But lists end up failing us – not giving us the deep roots spiritually to be grounded in meaning.
In her writing, Laura gives us permission to be a child again in God's kingdom. Just like the experience of playdates nurture my grandkids, time with God brings joy, lessons and stronger relationships. And like kids playdates – think of the memories we build, the bonds that strengthen with God.
"Remembering well is important in relationships. It's important in my relationship with God too. But my lists don't' encourage remembering. As soon as I check an item off… it's gone, I forget. When I move through my lists in a state of forgetfulness, it becomes less about what God can do and more about me…if you want to be productive, let the lists lead. But if you want to get closer to God, remember."
This book will help you recapture the joy of wonder and that childlike faith to guide you. A delightful, easy to read book that will refresh your soul.
Playdates with God is an invitation.
   A permission slip.
         An insightful guidebook to exploring God's wonderland.
** I was given a complimentary copy of this book in exchange for my honest opinion. But want you to know I really did enjoy this book and recommend it.
What do you think about God as a playmate? Ever play with God?