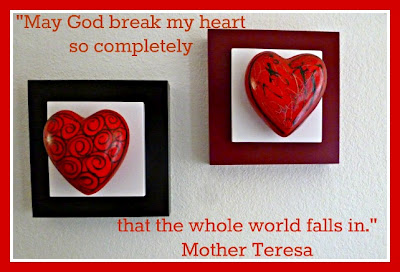 I love quotes. Quotes make me think. They summarize and clarify. They help me see things in new perspective. Though I may not always agree with everything that is written, it is mind stretching to muse over the words. I like quotes that feed my spirit and bring new language to my conversations with God.
Here are five quotes I have read recently about prayer:
"Prayer is what you do to bring yourself to attend to God and to pay attention to others." 
Attending to God is a different way to think about prayer, don't you think? 
"May God break my heart so completely that the whole world falls in."
Saying this prayer takes lots of courage. 
"Prayer is to be in God's presence with open hands and an open heart. There are many things in my life to which I cling as with a clinched fist – my possessions for sure but the immaterial things as well­­–the work I do, the position I hold, the friends I have, my ideas, my principles, my image. If I should open my fist, they still remain. Nothing drops out. But my hands are open. And that is what prayer is. After a while, if I am willing to remain long enough with open hands, the Lord will come. He will have a look and roam through my hands to see what I have. He may be surprised—so many things! Then he will look at me and ask:
'Would you mind if I take out this little bit?'
'Of course you may take it out. That's why am here with open hands.'
"And perhaps the Lord will look another time at me and ask:
'Would you mind if I put something else in your hands?'
"That is the heart of prayer. The Lord may take something out, and he may put something in.  No one else can do this, but he may. He is the Lord. I have only to open my heart and my hands and just stay there long enough for the Lord to come."
Peter G. van Breemen, SJ
As Bread that Is Broken
I like how God moves in this quote. How neat to approach God being truly open, vulnerable and definitely not in control.
"The discipline of prayer is the intentional, concentrated and regular effort to create space for God. Everything and everyone around us wants to fill up every bit of space in our lives and so make us not only occupied people but preoccupied people as well."
Making space for God is one of my favorite definitions of prayer. The words: intentional, concentrated and regular are good adjectives to ponder re our prayer life.
"To pray is to descend with the mind into the heart, and there to stand before the face of the Lord, ever-present, all-seeing, within you."
Theophan the Recluse, 19th century Russian mystic
One aspect of this quote I like is that I bring my mind with me into my heart. I never did like the either/or aspect of heart and mind and consider both gifts from God. There is certain awesomeness to this image too: standing before the face of God.
What do you think of these quotes? Any of them jump out to you? Or do you have a favorite quote about prayer to share?