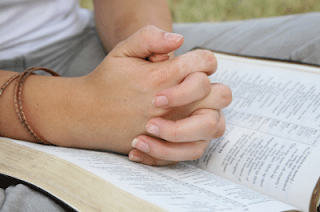 J
ane Vennard
wrote a paper,
"
Exploring a Life of Prayer
"
in December 1990.
I reread this article the other day and still continue to unearth treasures from her writing. One of my deepest desires to is live a life of prayer and Vennard's words helped me grow deeper.
Vennard describes various types of prayers, including thought provoking questions.
Her final questions lingered with me this week:
* What is the easiest and most natural form of prayer for you?
* What would be a realistic rhythm of prayer for you? Daily? Weekly? Monthly? Would it be possible to schedule a yearly retreat?
* Remember times you have wandered from your practice of prayer. What was the experience of being lost and then finding your way again?
The easiest and most natural form of prayer for me is simple talking with God. I chat with Him all day – yes naturally I do all the talking and have had to intentionally work on the listening side. Paying attention to what God is saying to me is a lifelong lesson.
I have experimented with different patterns of prayer but find starting my day in prayer is one of the keys to seeing God in all my day.
Even though the schedule demands busyness, attending at least one retreat each year is one of the most nourishing things I do to reconnect spiritually.
I have learned in times of consolation, times I felt near to God, trying new forms of prayer stimulated new awareness and growth. Time of desolation or feeling apart from God, I cling to my comforting patterns of prayers to find my way again.
How do you answer Vennard's three questions? How do experience prayer?