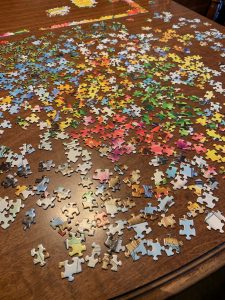 Puzzles are not normally a hobby, a pastime for me. Nor for my hubby.  Yet during this strange time of pandemic we have rediscovered jigsaw puzzles. Mostly we have worked together on the dining room table 1000 piece puzzles.
And I know I am not the only one. Puzzles disappeared like toilet paper from the store shelves in April. I knew my sister-in-law had some but didn't realize she had a full closet full of them. Amazing selection and man, have we been having fun piecing together puzzles.
Pondering this process of puzzles has also revealed some spiritual insights.
Keeping the box nearby to study and recheck guides our way.  Seeing the final product on the top of the box gives us clues and keeps us encouraged.  Time with God and studying his word works that way too. Too often all we see is the fragments of life. God the Artist, knows the final masterpiece and how beautiful it will be.
We often start with the outside frame to get a sense of where we are heading. Having a sense of structure gives me boundaries, makes decision making easier, and guides the whole process. I find this true in life too. But one person told me they have started some puzzles from the center depending on the whole picture of where they were going.  I need to be open and flexible and sometimes God leads us onward without many frameworks – trust the process by keeping our eyes and heart on the big picture. He is in control.
Almost every time we began a puzzle – with this framework – pieces were missing. As much as we looked and searched among the pile of unused pieces, some flat-edged bits took forever to find and be added. We had to stare for a long time to find what we were overlooking. It reminds me that we too have missing pieces and continue to grow, heal, and learn throughout our lives. Often the answer is in plain sight – we are the ones who can't see it.
Putting puzzles together as a family is fun.  Bill and I focused, worked together, complained and whined alike and cheered with each step of progress. One night my daughter, son-in-law, and three grandkids stopped by, and soon we all were working around the table in a delightful fellowship of search and find and celebrate. Community certainly helps in puzzles and in life's dilemmas too.
Each piece has a unique shape and place. Every piece counts. No one piece is the whole and the whole needs each piece to reveal meaning. We select one, turn it around several directions, and see how it fits. Sometimes that move works at the first guess but most of the time we have to focus, attempt several approaches, and occasionally start over.  Yep, sounds like life to me. One step, one piece at a time, and keep practicing. Eventually the mystery appears, and the work is done.
Puzzles have inspired others' wisdom too. Here is a delightful list of puzzle lessons.
I don't know how long we will be into puzzles. Our dining room table yearns to return to meals and a place to lay things we don't want to put away at the time. But I have no regrets from rediscovering this distraction from the pandemic and will remember its lessons.
Have you been into puzzles? What have puzzles taught you?