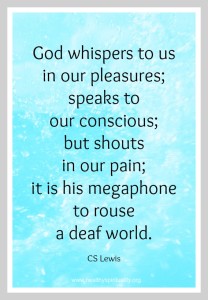 God whispers to us in our pleasures,
speaks in our conscience,
but shouts in our pains:
it is his megaphone to rouse a deaf world.
CS Lewis
This quote lingered with me today.
Sometimes in the good times, I hear God quite plainly and at a great volume level. I also believe I miss his many whispers too when the noise of the world and my inner chatter is set on loud.
I am learning in the second half of life to make friends with my hindrances and allow my discomforts and even pains and hurts emerge as lessons. I used to squelch them, bury them in ego protecting layers or ignore them, choosing instead to spend time with ice cream and fattening comfort foods. I am more patient with difficulties now – or at least attempt to be – allowing time to heal and discover their message.
God is in all my experiences – the pleasures, the worries and even the excruciating sobs of life. He doesn't cause them but he will make things new again if I walk along side with him, listening, learning, loving.
"God never wastes an experience or trial in our lives. Good or bad, easy or painful, he is able to use everything in our lives to grow us and make us more like him."
Amy Wallace
"But he said to me, 'My grace is sufficient for you, for my power is made perfect in weakness.' Therefore I will boast all the more gladly about my weaknesses, so that Christ's power may rest on me."
2 Corinthians 12:9 (NIV)
My prayer is to be awake for all those God moments. To hear his voice, heed his guidance, to follow in his ways, to transform my heart to be more like him.
The experiences in life mold us, correct our paths and give us hope. I guess I need to keep holding them up into God's light but sometimes a girl just needs ice cream or some great chocolate to soothe a hurting heart. LOL.
What do you think about that CS Lewis quote?