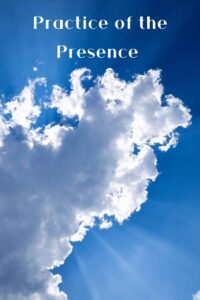 Practice of the Presence is a new translation of the writings by and about Brother Lawrence. Carmen Acevedo Butcher is the author and I love the way she works with his words and brings them alive in our century.  She includes her notes, so the reader also has a deeper understanding of her reasons for choices for translation.
I have known about Brother Lawrence for quite a while, yet this new book animated his spirituality. I highlighted, journaled, and took copious notes. I didn't just read this book, its practices seeped into my life.
Brother Lawrence, birth name of Nicolas Herman, was born in1614. He lived in the time of the Thirty-Year War (when he was injured, a disability that he suffered with the rest of his life), bubonic plagues, poverty, and famine. When he was 18, he received "a profound awareness of God's kindness and power there never left his soul."
He failed as a monk, but re-entered a monastery in Paris as a lay brother in 1640 when he received his new name of Brother Lawrence. The 1640s were tough – French civil war, he took his vows and became the cook for the monastery, endured depression and massive anxiety, a true dark night of his soul, and one-third of the population died due to a long severe period of global cooling resulting in crop failures.
In the 1650s till he died in 1691, he practiced the presence, living in inner peace in spite of constant leg pain, more pandemics, and war. A priest, Joseph of Beaufort began to visit and talk with Brother Lawrence around 1666 and recorded the sayings and conversations about this spirituality. This serves as the basis for this book.
Practice of the Presence contains Brother Lawrence's spiritual sayings, his letters, conversations and even his eulogy. This book reveals his deep faith and wisdom in the ordinary chores of cleaning, cooking, repairing sandals, and humble service. He said, "he found joy everywhere doing little things for the love of God."
What is the Practice of the Presence?
Brother Lawrence's practice is quite simple, praying constantly and being mindful of God in our daily works. This practice as he said, "Is the most sacred, the most robust, the easiest, and the most effective form of prayer."
Being aware of God's presence involves pausing frequently to listen and savor God's grace and love, trusting God is with us, in our hearts. "All thoughts, words, and action belong rightly to God."
Using what I call breath prayers. "My God, I am all yours." "God of love, I love you with all my heart." Whatever phrase, verse, quiet prayer that helps you focus solely on God and helps our heart and mind be with God.
Brother Lawrence reminds us that this discipline takes lots of practice and often it is impossible to be so focused but "we must let of go everything" in order to be with God.
"I keep myself there by simple attentiveness and a general loving awareness of God…a silent and secret conversation of the soul with God that is lasting." "My way is very ordinary. It is this simple attention, the general loving awareness of God."
"Gradually become accustomed to loving God in this way, asking for their grace, offering them your heart from time to time during the day, in the middle of your work, at any time you can. Don't stress yourself by adding special rule. Dot his in faith with love and humility."
Please note this last quote. Butcher uses the plural "their" and "them" when referring to God, as in the Trinity.
Do everything for the love of God. Do everything in the love of God. Let the love of God be the center and motivation of all our actions, thoughts, and words.
I will return to this book often; it's a powerful translation. Every time I open its pages, a new phrase inspires and nourishes my faith. Brother Lawrence reminds me over and over again to keep it simple – just focus, breath in and live for and in God's love.
What have you read lately that helps you practice God's presence?