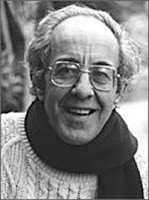 Henri Nouwen
is one of my favorite authors. The first book I read by him, edited by Wendy Greer is titled
The Only Necessary Thing – Living a Prayerful Life.

I revisited that book this week and here are some of my favorite quotes from that book:
·

     
Prayer is the center of the Christian life. It is the only necessary thing. (Luke 10:42) It is living with God here and now.
·      The more we pray – in the sense of living a prayerful life – the more we desire to pray
·      I am deeply convince that the necessity of prayer, and to pray unceasingly, is not as much based on our desire for God as on God's desire for us. It is God's passionate pursuit of us that calls us to prayer.
·      A spiritual life without prayer is like the Gospel without Christ.
·      Praying is living. Praying pervades every aspect of our lives. It is the unceasing recognition that God is wherever we are, always inviting us to come closer and to celebrate the divine gift of being alive.
·      Prayer is not what is done by us, but rather what is done by the Holy Spirit in us.
·      To pray means to stop expecting from God the same small-mindedness, which you discover in yourself. To pray is to walk in the full light of God and to simply, without holding back, "I am human and you are God."
May these wise words on prayer inspire your walk with God.
I will close with a prayer written by
Nouwen

:
Dear God,
Speak gently in my silence.
When the loud outer noises of my surroundings
and the loud inner noises of my fears
keep pulling me away from you,
help me to trust that you are still there
even when I am unable to hear you.
Give me ears to listen to your small, soft voice saying:
"Come to me, you who are overburdened,
and I will give you rest…
for I am gentle and humble of heart."
Let that loving voice be my guide.
Amen.