Drought – yes it is a record year for hot, hot temps and dry, dry weather. I found this graph from the Weather Channel that summed up our desperate need for rain very well.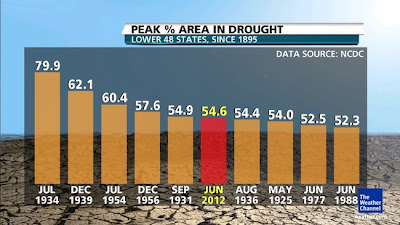 The National Climatic Data Center reports that the 2012 drought disaster is now the largest in over 50 years, and among the ten largest of the past century. Only the extraordinary droughts of the 1930s and 1950s have covered more land area than the current drought. 55 percent of the contiguous United States was under moderate to extreme drought in June.
  I live in northwest Ohio. When you look at this map, yes my tiny neck of the woods is maroon colored – one of the worst hit areas. We are classified as extreme drought. And I know many of you are also suffering this summer.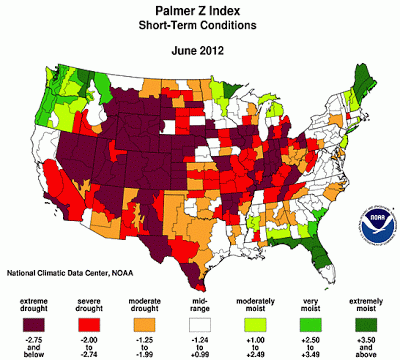 This severe weather will affect us all no matter where we live with higher costs such as in food. This could be one of the top ten most expensive weather disasters in the United States.
(NOTE: I began writing this a post a few days ago and woke up Thursday morning to the delightful sound of rain and gentle thunder. Praise the Lord!  Thank you!  But I decided to continue with this today since one storm will not make up our deficient and many other places continue to suffer.)
What can we do? We can't control the weather. We can't force it to rain. We all feel vulnerable and threatened by this changing weather patterns.
What can we do? We can be mindful of those without air conditioning. Check on our neighbors and friends. We can offer a cool cup of refreshing water to someone working outside. We can pause and say thank you to those with outside jobs.
O God, heavenly Father, who by thy Son Jesus Christ has promised to all those who seek your kingdom and its righteousness all things necessary to sustain their life:
Send us, we entreat you, in this time of need, such moderate rain and showers, that we may receive the fruits of the earth, to our comfort and to your honor; through Jesus Christ our Lord. Amen.
And I going to start carrying an umbrella.