Friendship – I have been thinking a lot about that word this year.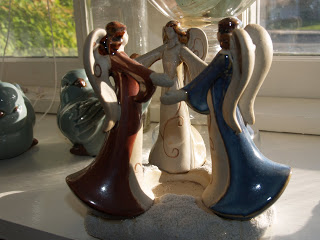 The etiology of this word comes from Old English combining obviously the two words – friend and ship.
Friendship is the deep, close, trusting relationship between people traveling together on the same journey, on the same ship.
No matter how difficult or fun, unexpected or routine, long or short the trip is, friends make all the difference.
The Gospel a few weeks ago – one of my favorites – told about two people traveling together on the road to Emmaus, sharing their confusion and sorrow. Another friend joined them for their journey too.
Then this quote struck my heart this week:
"It takes a long time to grow an old friend." John Leonard
Developing and maintaining friendships does take time, but the result is priceless.
Friendship can hurt too. We dig deep in our hearts to forgive, to give more when we feel depleted, and to just plain hold hands and be present for one another.
My prayer of gratitude this week is thankfulness for friends:
·

     
My best friends from sixth grade who can still remember what I wore the first day as a chubby, frightened student in a new school.
·

     
Friends from college that even after these many years we can still laugh and when we get together, it is like we have never been apart.
·

     
Thank you to friends who have left me or in process of leaving me for a better place. I can't wait to hug you all again in heaven.
·

     
Friends who encourage, pray, and inspire you to keep writing when you think no one will ever want to read your words. Then transform themselves into more than a critique group, but prayer partners. Even though we live hundreds of miles apart, we hold each other's hearts in our hands.
·

     
Others who have shared their adult journey with me – marriage, parenting, struggles, and joy. Friends joined together in prayer and worship.
·

     
And online friends – though we have never met, I feel we share something very deep – our intimate thoughts, fears, and experiences. God connects over cyberspace through friendship.
God created community and gave it to us to help us survive the rough spots, thrive in the good times by helping others, and arrive alive in celebration of our joys.
One of my favorite quotes:
In everyone's life, at some time, our inner fire goes out. It is then burst into flame by an encounter with another human being. We should all be thankful for those people who rekindle the inner spirit.

Albert Schweitzer
Thank you, dear friends, for rekindling my spirit.