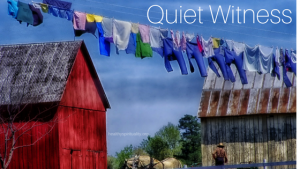 About one hour west of me lives a large Amish community. They are a friendly bunch and traveling in that county is always fun.
My good friend, Nancy, and I walked their open-air flea market on Wednesday on a perfect spring day. We found some wonderful treasures and enjoyed our day there.
On the way home, we passed a farm field on the north side of Route 20. The scene could have been painted by Norman Rockwell – green billowing grass topped with the blue skies dotted with pure white cumulus clouds.
In the middle of this landscape, a bearded Amish man baled hale. Remember the Amish faith doesn't use modern conveniences, so watching this man work his farm conveyed the perfect image of how we visualize Amish.
He rode on the back of his antique machinery pulled by two large beautiful draft horses. Behind him rose rows of mowed green grass, waiting to dry.
I said to Nancy, "He doesn't even know we are watching him, yet his work tells us about his faith. No machinery. Focused on getting the job done. Creating straight lines of hay to be baled. Yes, a quiet witness to practicing one's beliefs."
A quiet witness to his faith.
Quiet Witness of our Actions
"Preach the Gospel always. If necessary, use words."
Another form of quiet witness. This quote is attributed to St Francis of Assisi but most scholars cannot verify he said this. Still there is truth in this statement.
St Francis did say this:
"It is no use walking anywhere to preach unless our walking is our preaching."
"…As for me, I desire this privilege from the Lord, that never may I have any privilege from man, except to do reverence to all, and to convert the world by obedience to the Holy Rule rather by example than by word."
That is an early version of the modern expression: Walk the talk. Our actions speak louder than our words. Our lives testify to our beliefs. We embody our beliefs.
Now I am a word gal. I love words. I play with words. Words have amazing power. In my heart, I believe preaching the gospel is essential to sharing the good news. People need to hear how much God loves them and wants a relationship with them.
But our actions speak loudly too. Communication is composed of 55% non-verbal, 38% the tone and only 7% is communicated by the actual words.

People, especially kids, learn more by watching and imitating what we do more than what we say.
Remember the old saying, "Do as I say, not as I do?" I thought these words were modern slang but discovered they go back to 1546. Roots of this wisdom originate in John Heywood's "A dialogue Conteinyng the Nomber in Effect of All the Prouerbes in the Englishe Tongue" the following can be found:  "It is as folke dooe, and not as folke say."
And we can't forget what Jesus said in Matthew 23: 1-3
Then Jesus said to the crowds and to his disciples: "The teachers of the law and the Pharisees sit in Moses' seat.  So you must be careful to do everything they tell you. But do not do what they do, for they do not practice what they preach.
The wisdom of a quiet witness endures across time.
Our Quiet Witness
The Amish man working his field and pondering about these sayings bring my attention to my own quiet witness.
A major criticism of those who leave the church is we are all hypocrites, because we say one thing but do another.
If there were no words, no conversations, not blog posts or books, what would others see in our faith walk? Are we living in a manner consistent with our beliefs?
Kindness?
Reaching out to the invisible?
Listening even when we want to talk and fix the problem?
Standing up for injustice?
Pausing to hold the door for the next person?
Smiling?
Sharing when we want it all to ourselves?
Pausing long enough in our busyness to love?
Are we Jesus to others?
Our credibility grows with honest actions. We glorify God through the work of our hands.

I don't have all the answers and would love to have you discuss this idea and leave ideas in the comments.
Here are five ideas for quiet witness:
When someone comes to my house, they see pictures of Jesus and inspiration quotes on the walls. My home décor reflects my faith.
I put my Bible verse of the year on my dashboard of my car – to remind me to repeat it often and to help me memorize the words. I am amazed how often this verse sparks a conversation with others when we ride together.
Pay attention to when others, like that Amish man, live their faith and bring it up in discussion like Nancy and I did. I have a friend who no longer comes to church because of miscommunication from a former pastor and "those fuddy duddy old ladies." I still visit her, listen to her, and we have had some gentle conversations about forgiveness, how we all fail, and how God still loves us broken and imperfect.
What I share on social media speaks volumes too. When someone reads a post on Facebook or Pinterest from me, I want them to feel uplifted and drawn to Christ.
I try to pray before meals, home and in restaurants. To be honest, I am inconsistent with this practice but am working on it.
What do you think about quiet witness? What ideas do you have?  Let's explore this with one another.
P.S. I am trying to grow my email list for this blog so if you don't get my twice a week blog posts in your email, I invite you to sign up in the sidebar.  Only occasionally do I send something out in addition to the posts so promise not to clog up your inbox.  I also would love you to go to my Facebook author page and click the "like" button. That too helps me as a writer build my platform. Thanks so much!