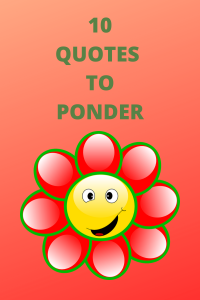 10 quotes to ponder. I do love quotes.  I gather them and tuck them into my heart like a squirrel amassing acorns for the coming winter. I collect these nuggets of wisdom that feed my soul in times of hunger, discernment and seeking.
Here are a few recent quotes I discovered and deposited into my heart:
Prayer is sitting in silence until it silences us, choosing gratitude until we are grateful.
******
Prayer pushes us through life's slumps, propels us over the humps and pulls us out of the dumps. Prayer is the oomph we need to get the answers we seek.
Max Lucado
******
I serve. I do the dance I must. I plant trees, but I am not the doer of this work. I am the facilitator, the instrument—I am one part of the symphony. I know there is an overall scheme to this symphony that I cannot understand. In some way, we are each playing our own part. It is not for me to judge or criticize the life or work of another. All I know is that this is my dance. I would plant trees today even if I knew for certain that the world would end tomorrow.
Balbir Matbur
******
The time is always right to do what is right.
Martin Luther King Jr.
******
I wonder if gratefulness is the bridge from sorrow to joy, spanning the chasm of our anxious striving. Freed from the burden of unbridled desires, we can enjoy what we have, celebrate what we've attained, and appreciate the familiar. For if we can't be happy now, we'll likely not be happy when.
Phillip Gulley
******
What grows tall and strong must also grow slowly and deep, or it will tumble… Depth takes time. I would say that God has all the time in the world. Though we live in a culture and time that so highly values instant access to everything, at least in the spiritual realm it seems to me we can only bear a little at a time.
Br. Curtis Almquist
******
Dear Jesus,
Help me to spread your fragrance everywhere I go.
Flood my soul with your spirit and life.
Penetrate and possess my whole being so utterly that my life may only be a radiance of yours.
John Henry Newman
******
"I don't pray," people say to me. And I say back, "Neither do I. I just breathe God in and hope somehow to learn how to breathe God out, as well."
The purpose of prayer is simply to transform us to the mind of God. We do not go to prayer to coax God the Cornucopia to make our lives a Disneyland of possibilities. We don't go to prayer to get points off our sins. We don't go to suffer for our sins. We go to prayer to be transfigured ourselves, to come to see the world as God sees the world, to practice the presence of God, to put on a heart of justice, of love, and of compassion for others. We go to become new of soul.
Joan Chittister
******
Hope is a stubborn determination to not allow the hardships of life to downsize the bigness of God.
Kevin Gerland
******
It's not what you say out of your mouth that determines your life,
it's what you whisper to yourself that has the most power!
Benjamin Disraeli
******
 Which of these 10 quotes resonates most with your spirit?  What wise saying have you read lately?