Beloved, do not be surprised at the fiery ordeal that is taking place among you to test you, as though something strange were happening to you.
But rejoice insofar as you are sharing Christ's suffering, so that you may also be glad and short for joy when his glory is revealed.
1 Peter 4: 12-13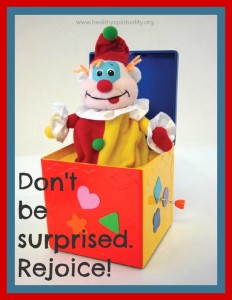 Beloved, do not be surprised…
But rejoice!
First of all, Lord, I am always taken back when you call me beloved.
Wow, thank you for such a tender, loving nickname.
Forgive me when I reject your call, your delightful gift in that identity, your love.
You are the God of Surprises.
I am amazed at your all encompassing compassion, presence and strength.
I would think by now, nothing you do should shock me. 
Your blessings astonish me time and time again.
This verse reminds me that in your wonder, I rejoice.
You help me to remember not to fear, reject, or doubt whatever experiences fall upon me.
Rejoice in your surprises, you gently urge.
I dance in the puddles of your delight.
I smile in the suddenness of your gifts.
I marvel at your miracles.
And I humble say thank you.
Thank you for your surprises that remind me that you are the Creator.
The Giver.
The One who cherishes us, your often unsavory creatures.
You who are the surprising Love of us, your broken beloved.
You who rejoices, showing me, reminding me to celebrate your surprises.
Rejoice!