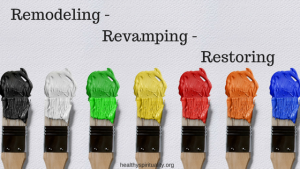 I am surrounded by bedlam, disarray, and chaos. Commotion and change explodes both inside and out as we are in the midst of remodeling– here at home and to be honest, even our lives right now.
Remodeling Home
Our first project is updating the backyard with new decking and fence. My hubby enlarged his storage shed and my garden is growing weeds not green peppers and tomatoes this year. If you have read this blog for long you know I love the peace and quiet time in summer in my backyard. Nope, not this year. At least not yet.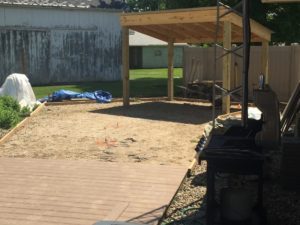 Memorial weekend found us on our knees – not in prayer, though we certainly could have used some – but ripping up carpet in the living room. New hardwood floors will be installed next week. Starting today my normally peaceful home will reverberate with pounding and hammering.

I do feel blessed that we can do this remodeling, but enduring the disruption and disorder unsettles this introvert! So I seek quiet time extra early in the morning before the fracas begins and savor the silence the evening brings.

Remodeling our Lives
Change is in the air for my life too. My job at the church expands this fall and in fact began ramping up earlier this year. Much sooner than I expected and projected in my schedule. I am a planner and had the year organized and laid out to get everything done but should have guessed my plans don't control the universe.
Many are the plans in a person's heart,
    but it is the Lord's purpose that prevails.
Proverbs 19: 21
I am not accomplishing in 2018 what I originally planned to, but God is opening new doors for me. I am stepping out in faith, trying my best to trust these next steps that I cannot fully see.
The first opportunity is to serve God more fully in my church. I am excited and truly believe my new job responsibilities is God's will and know in my heart I am being obedient. This step has been slowly evolving this past year, so I anticipated its arrival.
The second and more unexpected twist to my well-designed intentions for the year is taking graduate theology courses. This new development surprised me, scares me, and brought me to my knees in prayer for discernment. I want to be obedient and not waste God's gifts to me. So much is falling into place for this new opportunity and I am receiving affirmation from significant people in my faith walk – in astonishment I am moving forward into this unknown. I feel like I am leaping and counting on God to catch me.
Remodeling Healthy Spirituality
I have been praying for the guidance how to handle all these changes. The home will be done soon so that chaos will find its quiet and order by the end of June. The other changes will continue to evolve and ramp up in August and beyond. With summer trip plans and an 8-day retreat also on the schedule, changes need to be made.
Here are two changes for you know about this blog:
I normally write these posts twice a week. I do love blogging and sharing my faith walk and the practices that help me and others grow closer to God. The number one reason people give me when they unsubscribe is they are getting too many emails in their inbox. I know. I understand.Starting in June I am only going to post once a week with a rare additional post if needed. We are both winners – you have less emails – I gain a little time.
I am sure with the laws changing about blogging and email addresses you have seen, heard and are sick of being notified of privacy due to the GDPR or the General Data Protection Regulation. In light of this increased focus on data protection, I want to assure you that I'm fully committed to securely handling your data and not being spammy. Check out my updated privacy policy in the header of the blog posts where I've added language that helps you understand what kind of information is collected, what I do with that information and how that information is stored.
What to expect from me:
I generally will send Healthy Spirituality blog post once a week to encourage you in your spiritual journey. On occasion, I may also include promotional content for related resources to help you in your walk with Christ, such as special focus on a practice.
I will never sell your address nor spam you with unexpected annoying emails and promotions. You can unsubscribe anytime – though I will miss you – but if you choose this I will delete all your information from my file as required.
Your email is safe with me and I am grateful we have connected.
Wow this is a ton of info. Can you see why I am feeling a bit overwhelmed?
Letting go of routine is hard – I am giving up a couple of other things you don't see on this blog in order for the space to serve God in a new way.
I feel blessed and excited to enter a new season with an updated home and hopefully a renovated heart for the Lord, following his plans, not mine.
What is the Lord remodeling in your life?