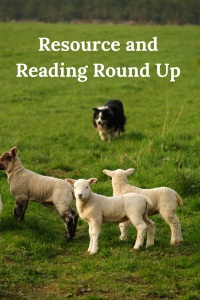 A round up is a collection of interesting reading, resources and links one person gathers, then shares in a podcast or blog post.
Rounds ups are like treasure chests – you find rich nuggets of wisdom and inspiration. You can skim all the ideas and choose which ones to fall down the bottomless rabbit trail of fun info.
After the past few weeks this blog tended towards a pretty serious tone so it's time to find joy!
Here you go:
Round Up of Interesting New Words
I am such a word nerd. ( :
The perfect word for a pandemic: Waldeinsamkeit – a German word that refers to the feeling one has while being alone in the woods, usually a sublime or spiritual one.
Chinwag – is British for chat.  I love having a chinwag here on the blog each week with you.
Gelid – Latin for icy and extremely cold.  I am glad the gelid winter is almost over.
Limerence – this word just plain sounds cool.  It means "obsessive infatuation with someone, usually accompanied by delusions of or a desire for an intense romantic relationship with that person" was coined in 1977 by Dorothy Tennov, an American psychologist, in her book Love and Limerence: The Experience of Being in Love. Dr. Tennov says of her coinage: "I first used the term amorance then changed it back to limerence… It has no roots whatsoever. It looks nice. It works well in French. Take it from me it has no etymology whatsoever."  As writers I think we all need to invent more fun words.
Quiddity – A Latin noun for a distinctive feature; a peculiarity.  Again a fun word to say and impress your family.
Round Up of Interesting Posts to Read
Have your heard of the Dunning-Kruger effect?  Don't give up – that is what it basically is – don't give up.
I used this story in a sermon a few weeks ago. "Think like a bee."
We have today – yes we do!
How other's words and actions shape our brains.
I call them excuses but Gretchen Rubin calls them loopholes. Very interesting article where she  explains "when we try to form and keep habits, we often search for loopholes, for justifications that will excuse us from keeping this particular habit in this particular situation. However, if we catch ourselves in the act of loophole-seeking, we can perhaps reject them." 
Debbie Thomson shared Eric Liddell's Six Devotional Questions he used daily – powerful prompts for our prayer time: 
Round Up Of Quotes to Ponder
"A brief guide to improvement:1) Lots of research. Explore widely and see what is possible. 2) Lots of iterations. Focus on one thing, but do it in different ways. Refine your method. 3) Lots of repetitions. Stick with your method until it stops working.  Research. Iterate. Repeat." James Clear
In those times I can't seem to find God, I rest in the assurance that He knows how to find me. –Neva Coyle
What if prayer is not our trying to get a conversation going with God, but actually continuing a conversation which God has already begun? In the corner of my cell I have a prayer corner, with an icon, candle and chair. At one stage in my life I would wonder – how am I going to pray today? Now, I pause at the threshold, knowing that God is already there, waiting for me, inviting me in – because God delights in me. -Br. Geoffrey Tristram

Guide us, we pray, down the unknown corridor of this day and every day. Lead us, each one, to the one door of all the many doors that thou wouldst . . . open. Give us courage to speak there the word that thou wouldst have us speak of love and healing. Give us ears to hear thee speak at every turning of the way—to listen, to listen, to hear, and to obey, even when the heart within us faints. Help us to live this day as though it were the first of all our days or the last of all our days. Amen. A prayer by Frederick Buechner
What good stuff have you discovered lately?