"Come to me, all you who are weary and burdened, and I will give you rest."  Matthew 11:28 (NIV)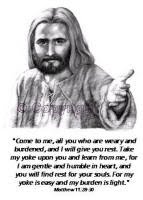 Weary and burdened.  Yes Lord that is how I feel this week. 
Weary from too much whirlwind traveling and demanding busyness.
Burdened by consuming shifting emotions that swing wildly from deep heartbreaking hurts to indescribable joy.
I read once that we are like sheep and need to remember sheep are not burden carrying animals.
So this little lamb comes to You seeking Your arms of comfort and rest.
I need Your strength to renew my spirit so I can continue to live as You called me.
Your rest is the place I dwell and release my heavy burdens and unwind my weariness.